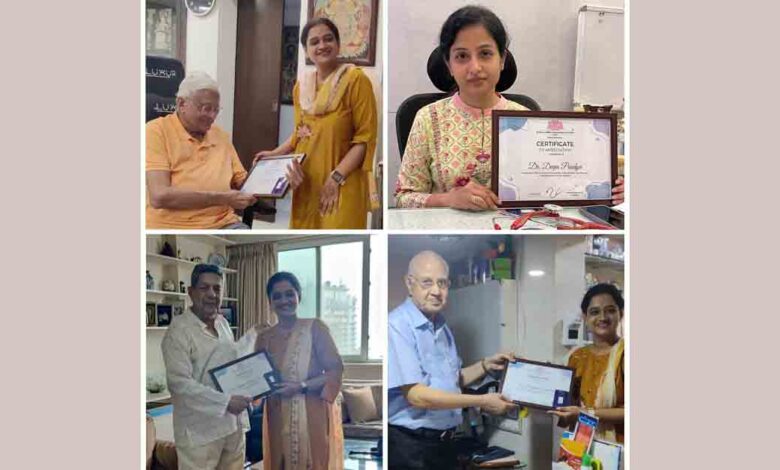 Health & Fitness
Kamala Ankibai Ghamandiram Gowani Trust Pays Tribute to Healthcare Heroes on Doctors' Day
On this special occasion of Doctors' Day, it is important for us to acknowledge and appreciate the remarkable dedication and selflessness of doctors around the world. Their tireless efforts and unwavering commitment to our well-being deserve our utmost gratitude.
Today, the Ankibai Ghamandiram Gowani Trust takes great pride in honoring these exceptional healthcare heroes by presenting them with certificates of appreciation. These doctors have gone above and beyond their call of duty, putting their own lives on the line to save and care for countless patients.
Doctors play an integral role in ensuring the health and welfare of society. Whether it is treating severe illnesses, performing life-saving surgeries, or providing preventive care, they are at the forefront of the battle against diseases and ailments.
Their compassion, resilience, and expertise make a world of difference in the lives of patients and their families. Their tireless work often goes unnoticed, but today, on Doctors' Day, we want to make sure they receive the recognition they truly deserve.
Amidst the current global health crisis, doctors have displayed immense strength and courage, working round the clock to save lives and contain the spread of the virus. They have faced unprecedented challenges, often putting their own health at risk, just to ensure the safety and well-being of others.
It is crucial for us to remember that behind those white coats and stethoscopes are individuals who sacrifice their personal lives and make countless sacrifices to serve humanity. Their dedication is unquestionable, and their impact immeasurable.
Today, as we celebrate Doctors' Day, let us express our deepest appreciation for the selfless service and unwavering commitment of doctors. They are the true healthcare heroes, and their efforts deserve not just our thanks, but also our support and respect.
Join us in honoring these incredible individuals, who have dedicated their lives to the noble profession of healing and saving lives. Let us spread the word and raise awareness about the indomitable spirit of doctors, and the importance of cherishing and supporting them.
On this Doctors' Day, we salute all doctors, past and present, for their invaluable contributions to society. Thank you for your unwavering commitment, your endless sacrifices, and your compassion towards humanity.