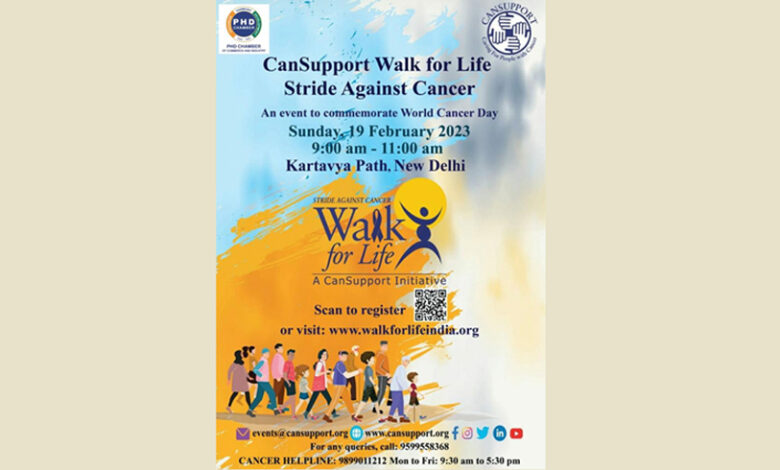 CanSupport is organizing a Walkathon to commemorate World Cancer Day and to create awareness about the rising incidence of cancer, show solidarity with cancer patients and their families.
CanSupport will hold its 16th Annual Walkathon titled 'Walk for Life – Stride Against Cancer' at Kartavya Path, New Delhi on Sunday, 19th February 2023 in association with PHD Chamber of Commerce and Industry. This is one of the first Walkathons being held at the newly revamped Kartavya Path.
Dr. Randeep Guleria, Chairman, Institute of Internal Medicine and Respiratory and Sleep Medicine and Director, Medanta Medical School will be the Chief Guest at the event.
Started in 2008, the Walkathon, commemorates World Cancer Day (Feb 4th) and aims to raise public awareness about cancer, to honour the memory of loved ones as well as to raise funds for CanSupport's free of charge Home-Based Palliative Care Services.
CanSupport, an NGO, is India's leading free of charge home-based palliative care provider, helping cancer patients and their families especially those who are poor and destitute. For the last 26 years CanSupport, a World Health Organization (WHO) awarded organization, has been supporting people with cancer, and their families to live with dignity, hope, and comfort.
32 Multidisciplinary Teams take care of around 3,200 patients across Delhi NCR, UP, Punjab, Haryana and Jharkhand. The teams have supported more than 6 Lakh cancer patients and families since inception.
For more details please visit our websites or call at the Cancer Support Helpline for Cancer related information, referrals and for an empathetic listening ear.
011-41010539 / 98990 11212 (Mon-Fri, 9.30 am-5.30 pm).
Website: https://cansupport.org/