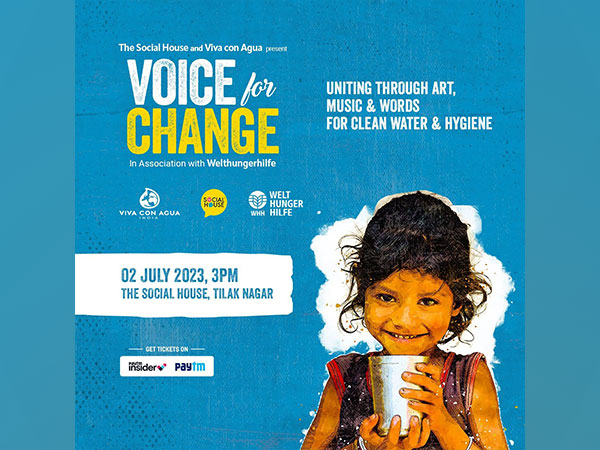 Lifestyle
THE SOCIAL HOUSE collaborated with German NGOs 'Viva con Agua' and 'Welthungerhilfe' for Voice for Change
New Delhi: Ravie Solanky, founder of The Social House conceptualised 'Voice for Change', a special poetry line-up to address the issues which are often ignored in the society. People generally feel hesitant to speak on the topics like menstruation, sex education, women's rights, therefore, The Social House intends to create a safe space for the artists where they can speak their heart out without any hiccups.
The Social House is ready to make a difference at their special experience, "Voice for Change"! They have partnered with renowned German NGOs Viva con Agua and Welthungerhilfe to tackle important issues surrounding water conservation, water sanitation, and hygiene. Starting from July 2nd, 2023, an exciting series of events have been planned to bring a change with the art and celebrate the power of art. Every experience will be hosted by Ravi Solanky who not only founded TSH but also an amazing  Director and Writer. And  5-6 amazing hand-picked artists will be addressing these topics in unique and creative ways. From thought-provoking sketches to captivating events and powerful videos, we'll be raising awareness and sparking conversations that matter. 
Viva con Agua promotes access to clean drinking water, sanitation and hygiene. We rely on activism and use the universal languages of music, sport and art for our work and our national and international projects. It supports water projects with the vision "WATER FOR ALL – ALL FOR WATER!".  Besides the air we breathe, water is the basis of all life and a fundamental human right. Viva con Agua pursues the vision of access to clean drinking water, hygiene facilities and basic sanitary provision for all people. 2.2 billion people worldwide do not have assured access to clean drinking water. About 785 million of them even lack basic water supply.
Welthungerhilfe (WHH) is one of the largest private aid agencies in Germany; politically and religiously independent. The organization fights for "Zero Hunger by 2030". Since being founded in 1962, it has provided funding of EUR 4.46 billion for more than 10,895 overseas projects in 70 countries.In 2021 alone, WHH supported about 16.6 million people with its 526 overseas projects in 36 countries. In real terms, that means: Many people now harvest more and can therefore improve their diets. They now have clean drinking water or toilets at home, which leaves them less susceptible to illness. Others are earning or producing more and can begin an education. For the children, WHH's support means a chance of improved physical and mental development.WHH bases its efforts on the principle of empowering people to help themselves, which it implements with measures ranging from rapid disaster relief to rehabilitation to long-term development cooperation projects with national and international partner organizations.
A passion project, founded by Dimpy Dua and Ravie Solanky in 2017, The Social House (TSH) is an initiative that provides a platform for emerging artists to showcase their talents in a variety of forms such as poetry, storytelling, comedy, rapping, beat-boxing, music, and more to the masses while also assisting them in improving their skills through mentoring and thought-sharing conversations. The Social House is one of India's leading producers of poetry and storytelling, presenting a new event each week featuring local and national performers. After officially opening its doors in September 2017, The Social House has quickly become the industry's go-to live venue. The venue consists of 1100 square feet of space with the availability of parking space. Located at a distance of just 30 meters from Tilak Nagar Metro Station with a seating capacity of 55. It has been designed as a versatile venue that can comfortably accommodate a wide range of events. It is a perfect place to hold team meetings, workshops, product launches, talks, or events. The Social House has already been host to many events like poetry, comedy, rapping, beatboxing etc. The venue is fully equipped with a good-quality sound system, and projection facilities.
Commenting on the curation for special experience  'Voice for Change', Ravi Solanky, Founder of The Social House, stated "I always believed that Art has no political, regional, social constraint and thus it's the most powerful tool to bring the change. And that's the reason for the establishment of The Social House, it's a room for every kind of art and artist, where artists are being respected and art is being cherished. The idea of Voice for Change popped up in our minds way back when we saw introverted people speaking their heart out at our stage without any fear. We hosted chapters on Mensturation, girl education etc before and the result was tremendous. So now we intend to bring our IP 'Voice for Change' mainstream and reach out to maximum people and bring a bigger difference.
Venue: The Social House, Tilak Nagar, Delhi
Time: 3 pm