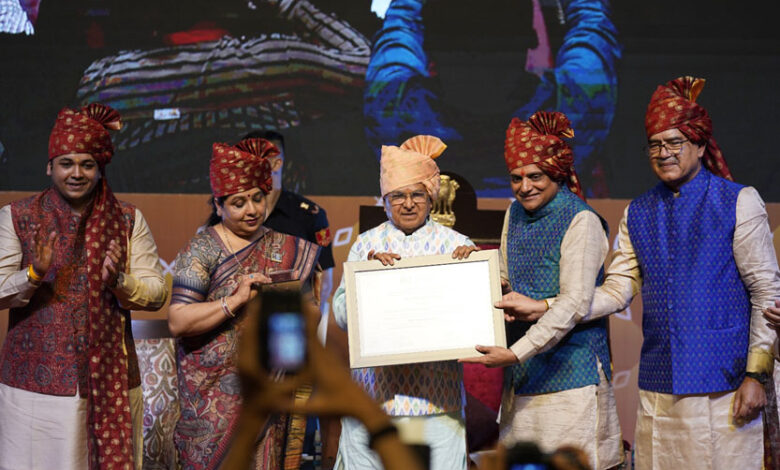 Health & Fitness
Embrace the Infinite Potential of Life with Ayurveda – Dr. Partap Chauhan
New Delhi: Dr. Partap Chauhan, Director of Jiva Ayurveda, was honored with the esteemed Doctor Honoris Causa degree at the inaugural convocation of Mansarovar Global University in Bhopal on Saturday. This recognition celebrates Dr. Chauhan's significant contributions to the field of Ayurveda. The degree was conferred by Shri. Mangubhai Patel, the Governor of Madhya Pradesh, in the presence of Dr. Bharat Sharan Singh, Chairman of M.P. Private University Regulatory Commission.
Expressing heartfelt gratitude, Dr. Partap Chauhan remarked, "I am deeply honored to receive this esteemed recognition from Mansarovar Global University. It is truly inspiring to witness an increasing number of young individuals exploring Ayurveda and demonstrating their reverence for our traditional wisdom. At Jiva Ayurveda, we strive to integrate traditional knowledge with scientific research and innovation, enhancing the effectiveness and accessibility of Ayurvedic treatments. I firmly believe that the youth's interest in Ayurveda stems from the limitations of modern medicine in effectively addressing long-standing issues like stress, diabetes, and heart conditions."
Jiva Ayurveda, founded by Dr. Partap Chauhan in 1992, is making waves in the realm of Ayurvedic healthcare. Guided by the philosophy of addressing the root cause of ailments, Jiva Ayurveda, accredited by NABH, offers holistic and personalized treatments for a wide range of health issues. The organization has gained recognition and has been recommended by the Ministry of AYUSH.
With a network of over 80 clinics across India and a growing global presence, Jiva Ayurveda is extending the benefits of Ayurveda to individuals in the United States, the United Kingdom, Canada, and Australia. This expansion is made possible through its online platform and strategic collaborations with local companies. A standout feature of Jiva Ayurveda is its Telemedicine platform, enabling remote consultations with Ayurvedic doctors. Through a user-friendly online appointment system, patients can connect with doctors via phone or video calls, making Ayurvedic healthcare accessible worldwide.
Jiva Ayurveda's commitment to providing high-quality healthcare services has garnered numerous accolades, including the Worldwide Achievers Award and the Economic Times Award in 2018. Dr Chauhan's mission to take Ayurveda to every home has seen him popularize Ayurveda not just in India but also in Europe, Asia, USA, and Latin America through healthcare and educational collaborations. His telemedicine project, TeleDoc, has been honored with the World Summit Award by the United Nations, further cementing his reputation as a pioneer in the field of Ayurveda. Dr Chauhan's dedication to promoting the benefits of Ayurveda has had a profound impact on the lives of countless individuals around the world, and he continues to be at the forefront of the Ayurvedic healthcare movement.
Through personalized treatments, a Telemedicine platform, and prestigious awards, Jiva Ayurveda exemplifies its dedication to enhancing accessibility to Ayurveda while upholding exceptional healthcare services.