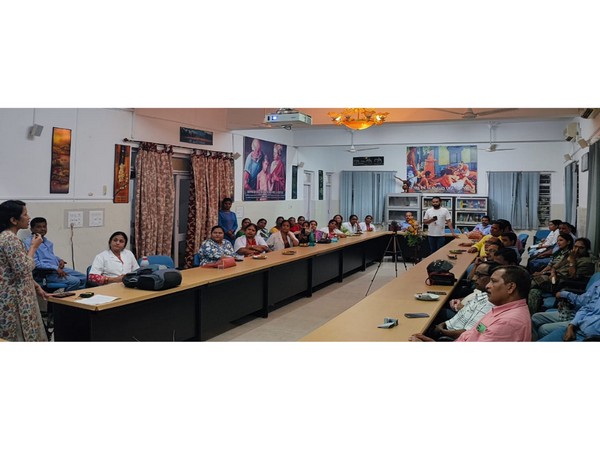 Lifestyle
Odisha witnesses beautiful blend of Mental health and Art
Award-winning writer Aryan Saha joins hand with 'Life in Dew' an Odisha-based health and wellness initiative for a mental health program and poetry recitation inspiring resilience and tranquility.
In a powerful display of unity and support, an enlightening event centered around mental health was held at Damanjodi, Odisha. The event, organized by 'AND' – Anxiety and Depression (earlier known as Depression and Anxiety Support) was led by Aryan Saha whose mental health initiative was selected out of 10 million Facebook communities by Meta, the parent company of Facebook, Instagram and Whatsapp.
The highlight of the event was a thought-provoking seminar conducted by Dr. JyotiRanjan Dash, the esteemed Medical Superintendent of NALCO Hospital. Dr. Dash shared valuable insights on mental health, delving into crucial topics such as anxiety, depression and suicide prevention. His expertise and heartfelt explanations left a lasting impact on the audience.
Adding a touch of artistic beauty, two remarkable poetry recitations captivated the attendees. Dr. Sandhyarani's heartfelt rendition of "Resilience's Symphony: Conquering the Shadows" resonated deeply, while Sangita Smita Das's enchanting recital of "The Rose Bloomed Again" offered solace and inspiration.
Recognizing the participants' contributions, a prize distribution ceremony was held to honor their dedication and engagement throughout the event. The celebration highlighted the importance of fostering a sense of community and support in the journey towards mental wellness.
The event welcomed esteemed guest Dr. Amarjit Mohanty, General Manager of NALCO Medical Services, as the chief guest. Dr. Mohanty's presence added prestige and affirmed the significance of addressing mental health issues within the community.
The collaboration between 'AND' – Anxiety and Depression and 'Life in Dew' marked a pivotal moment in raising awareness about mental health and instilling hope in those facing personal struggles. Aryan Saha, a celebrated mental health advocate and artist, brought his passion for storytelling to the event, aiming to bridge the gap between art and mental wellness.
The event concluded with a heartwarming felicitation ceremony, where Dr.Santosh Das, a respected figure in the field, presented a token of appreciation to Chief Guest Dr. Amarjit Mohanty, expressing gratitude for his support and valuable presence.
The event served as a reminder that together, we can create a safe and nurturing environment that promotes mental wellbeing. It highlighted the importance of open dialogue, education, and artistic expression in fostering resilience and overcoming the shadows of anxiety and depression.