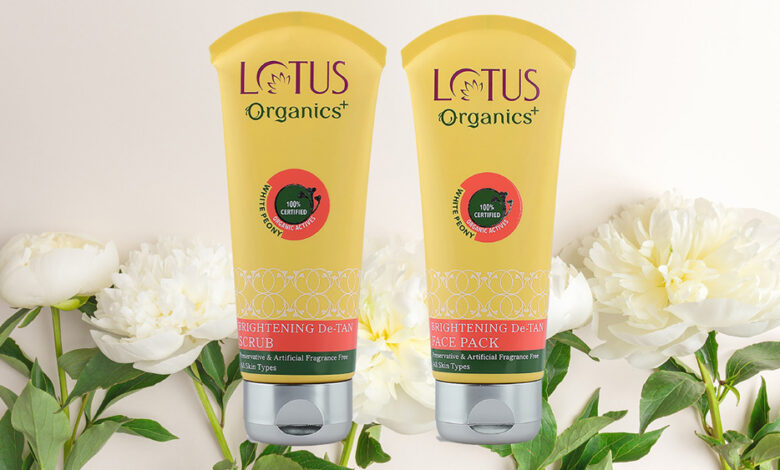 Lifestyle
Organic Skincare brand Lotus Organics+ introduces its De-Tan range
Awesome De-Tan Scrub and Face Pack on offer!
Are you wondering how to get rid of the sun's tanning effects on your skin? Now here is the perfect remedy for your skin woes! The premium organic skincare brand Lotus Organics+ has introduced its De-Tan range of skin products that includes the Brightening De-Tan Scrub and the Brightening De-Tan Face Pack. Now experience the wonders of the De-tan scrub and De-Tan Face pack enriched with the potent essence of White Peony Flower extracts. Known in Traditional Chinese medicine as the "king of flowers", white peony extracts works as a natural antioxidant to help boost skin clarity for visibly brighter, more radiant-looking skin. The White Peony Flower extracts possess natural antioxidants that combat free radicals, minimizing premature aging and promoting skin elasticity. Embrace the power of these wonderful De-Tan products for a rejuvenating and luminous skin transformation.
The Lotus Organics+ Brightening De-tan scrub is enriched with the goodness of 100% certified organic white peony flower extracts with a 99% natural formulation. This innovative scrub carefully blends 100% certified organic white peonies into your skin to exfoliate dead skin, moisturize the upper layer of the skin, and regenerate cells for a fresh look and youthful radiance. It works wonderfully on the targeted areas to reduce tanning, stubborn blackheads and whiteheads ensuring smoother, even skin tone. The powerful white peony polishes the skin, smoothens uneven texture & pigmentation to make your skin feeling clean, clear and flawless. Regular application reveals a clearer, more even-toned complexion, making it an essential addition to your skincare routine.
Lotus Organics+ Brightening De-Tan Face Pack enriched with 100% certified organic white peony extracts has purifying & cleansing effects on the skin. This face pack combats the harmful effects of sun damage and helps in removing sun tan and pigmentation. With this De-Tan face pack experience the magic of White Peony Flower as it leaves your face refreshed and revitalized with a radiant glow.
The Lotus Organics+ Brightening De-Tan range is consciously crafted using 100% certified organic actives making them the perfect indulgence for your daily beauty regime. They are vegetarian, cruelty-free, preservative-free, sulphate-free, paraben-free, with ECOCERT Certified ingredients and brought to you in a recyclable packaging. Lotus Organics+ Brightening De-Tan scrub is priced at Rs.435 for 100 gm and the Lotus Organics+ Brightening Face pack is priced at Rs.435 for 100 gm. They are available at, the Lotus Organics+ webstore – https://www.lotus-organics.com/, and on all leading e-commerce portals including Nykaa, Myntra, Amazon, Purplle and others.