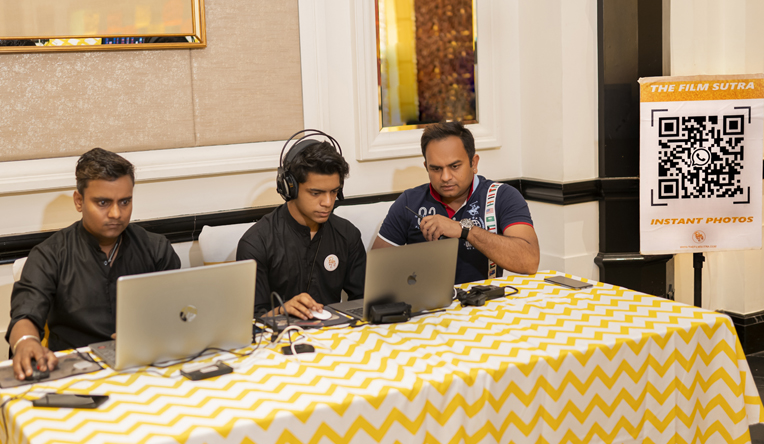 Photography
This is how The Arun Aadidev has changed the wedding photography industry
Arun Aadidev introduces a QR code system to get instant wedding clicks.
Film Sutra is the top-notch wedding photography service provider that captures marvelous shots and builds extraordinary wedding stories. With services like pre-wedding photography, Luxury-wedding photography, Destination wedding photography, Commercial Film Shooting TVC, and Next-Gen photography, the team has helped multiple clients create memories forever. As the Next-Gen photographers, Film Sutra introduced the QRcode system to help the guests access their photos on the same day. It's the digital era and the era of millennials where a single click is expected to provide multiple solutions. With the evolving technology, Mankind has evolved too. Right from ordering the morning coffee, wardrobe revamping, footwear selection, attending school, or attending a wedding, everything is digitized. Thanks to the power of the Internet that's helping to lead a quality life. Film Sutra, being the Next-gen photography service providers, leverages the power of technology to provide the best wedding photography services to their clients.
Arun Aadidev, Founder & CEO of The Film Sutra is a visionary who believes in capturing human emotions in his camera lenses. With over 18 years of experience as a professional wedding photographer, Arun Aadidev has earned the reputation of being "the innovative mind" of the industry. He says, "I was inclined towards cameras from my early days. I love being behind the camera and capturing emotions and moments through my lenses." Arun Aadidev introduced the concept of 30 minutes wedding story, Reel Videos, QRCode for Instant Photo, and the Theater Concept in the wedding photography industry. With a vision to lead the industry by clubbing technology with innovation, Arun Aadidev leads The Film Sutra.
The QRcode system introduced by Film Sutra lets the guest access the photographs instantly. So, how does this work? The guests can walk to the scanning counter, scan the QRcode, click a selfie and send it to the team. The team edits the photographs of the respective guest, color-corrects them and sends them to their WhatsApp number on the same day. Besides this, the team shares the video reels of (15-20 seconds) of the Mehandi ceremony, Jai Mala, Pool Party, Sangeet Program, Bride's entry, and 7 pheras with the family members through the WhatsApp group. The team also invites 25 members (each) from the bride and groom's family, clicks their photographs, gets them framed, and gifts them on the wedding day.
With their one-of-a-kind Theater concept, Film Sutra has set the industry benchmark high. Today, the brand has become synonymous with innovation beyond excellence. The industry professionals shoot an 8-9 minutes documentary that includes video clips of significant wedding customs along with the interviews of family members, wedding fun-time, and other happy moments. The documentary is then played on a LED where the bride and groom along with the family members are invited to watch it.
Regardless of whether your requirement is for pre-wedding photography, Luxury-wedding photography, Destination wedding photography, or Next-Gen photography, Film Sutra caters to them all. Visit www.thefilmsutra.com to know more about the wedding photography services. You may also drop an email at [email protected]