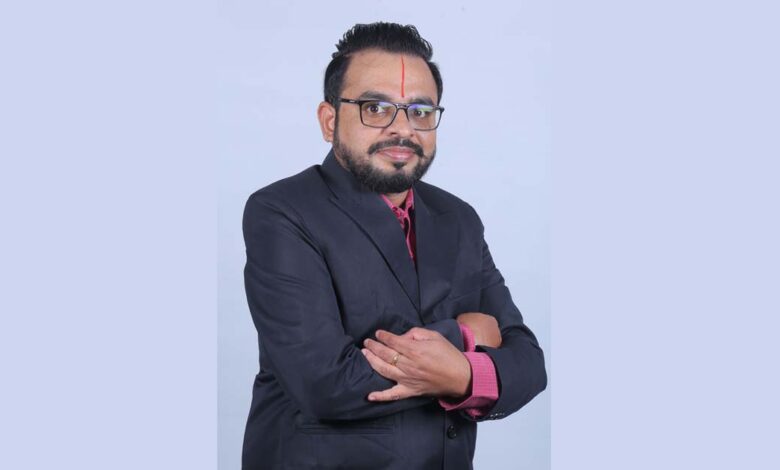 Lifestyle
The story of Sharath Srinivasan starts from his childhood where he has humble beginnings, he then goes through some tough times and is now strong and life will never get him down, because "the harder I fall….the higher I bounce……"
He has a lot of potential in him and he has the courage and the role model for the disabled, Depression, Abled people, Low esteem people and in short the sky is limitless.
To start off with, Sharath's family. It is a nuclear family, his father, mother, elder sister and himself. His sister Kalpana used to read a lot and was studious, while Sharath on the other hand was just the opposite. he was very active in my school and college days. He used to actively participate in all Extra Curricular activities and used to anchor for many events. He was very fond of playing cricket. He wanted to go for CA but as he was not very serious about his studies (yet he would score 70 to 80% without studying). So his mother used to tell him "CA tere bas ki baat nahi hai" because it required a lot of hard work.
Like everyone he used to get up late. In fact it was my sister who used to wake up early and drop my dad to the bus stop. He used to get up only at 8. After his Intermediate he joined GMRIT, Srikulkam in NRI quota. Due to Kidney stone issue he missed third year 2nd Semester and fourth year, first Semester and he had to write all the exams of both the Semesters i.e. almost 18 papers at one go continuously in the mornings and afternoons.
During GMRIT, he got selected in Polaris in his third year first semester through campus recruitment. He joined Polaris but after two year decided to quit and write GMAT. He later went to do MBA in London and later did certification of SAP FICO. He later joined Infosys and then one of the big 4 companies in 2014.
After joining he had big dreams. He loved travelling a lot and got a chance to visit Spain, Bangkok, London, Kodaikanal and Araku. He has a strong faith that God is always with him. While in London I developed kidney stone problems and was hospitalised.
"The doctor announced discharge only at 9 pm and my friends had all left. I had no penny to pay to travel and I was all worried about what to do.
I don't know how a Pakistani came and brought the train ticket.
I took the address from him to return the money and realised he stayed near to where I stayed but after discharge I searched for him but then realised no one lived there.
I believed God had sent him as my Saviour."
Sharath had become a workaholic working day and night for 16 hours. Within 6 months of joining one of the big 4 companies he got promoted which motivated him to do extra work (14 to 16 hours including Saturday and Sundays for nine month. he was ambitious, wanting to achieve everything in his career at any cost and in hindsight it looked like even at the cost of his health.
On 12 July 2015 his struggle began – he reached Mumbai from Hyderabad on 12 July went to work on the same day. He was giving a seminar to a client through one of the Big companies. At 3:30 pm he fell down on his colleague. He was rushed to the first aid centre in the client's office, his BP had shot up to 190 / 110. Within 12 min he was taken to Fortis hospital. By the time he reached Fortis hospital he was drenched in sweat.
When the CT scan and MRI reports came out Sharath and his partners got to know that he had a big brain clot. He had a brain haemorrhage.
His parents were asked to rush to Mumbai from Hyderabad. When his parents flew into Mumbai and saw him at the hospital they totally broke down as he was in two ventilators and the doctors told them that I had a Brain haemorrhage and that my survival rate was just 30%.
"Even if Sharath did survive he would be like a vegetable and my speech and memory stood no chance at all." the doctor said.
Sharath was operated the next day and was in hospital for the next 36 days. He was in a coma for 3 days and my brain was kept open. After 7 days I was given electric stimulation with high voltages. His hands and legs were chained.
The day he came back to senses were the worst days of his life because he was wondering why God had brought him back to life in this condition.
The trauma that he went through in the hospital bed looking at the ceiling still gives him shudders.
Only 1 thing kept coming to his mind- WHY DID GOD DO THIS TO ME?
He had lost hope in his life. All except his mother believed that he would come back to life and it was her belief, faith and prayers that gave him the courage to even think about the future. His parents arranged all medical facilities and urine tubes in the flight back to Hyderabad.
He was in bed for almost 3 months without being able to even attend to his daily routines.
"I was totally dependent on my parents."– Sharath.
Without his father and mother he would not have seen this day because of the pain and sacrifice that they took for him. He would cry inconsolably often because he had become a zero. He was turned to nothing within days. His parents could not understand a word of what he was saying and he had to start using his left hand because his right hand and leg were unmovable.
"Questions like:-
WHY DID THIS HAPPEN TO ME?
HOW COULD THIS HAPPEN TO ME?
WHAT WILL HAPPEN TO ME?
Kept playing in my mind NON STOP."
Was what Sharath says.
On the Crossroads of Success and failure… 
He had two options in front of him:-
The First was to accept that it was his fate and that he lived accordingly.
The Second was to get up once more and fight the good fight of faith. That is when in spite of all the odds against you are actually more than a conqueror
He came to know that Vipassana could make changes in his condition. He went for Vipassana twice (Main Course) and 8 short courses. He ran a 5 km Marathon. He used to keep a 3 month target for all goals.
In Sharath's words- "My spiritual growth helped me achieve my goals."
Slowly he started taking baby steps towards life. A few steps gradually increased to a few yards, the yards increased to a few miles. He had already realised he was a fighter and his spirits were kept high by his parents
He slowly began my taking on daily tasks – bathing, sitting, eating with left hand, started learning a,b,c,d and 1,2,3,4.
He was right handed person and imagine at age of 28 learning to be left handed.
Sharath also adds- "To be honest, inspiration from my parents and the success stories of Arunima Sinha (first female amputee to climb Mount Everest) and the comeback stories of Yuvraj Singh greatly inspired me.
It took me just six months for me to be in a state where I could resume work.
In 2019 I was promoted as a principal Consultant."
Disability – When your mind is strong whatever hindrance comes our way our mind will find ways to overcome it but being physically strong and mentally weak will lead us further to our downfall.
He overcame his challenges, he started doing everything that a normal person would do. He used to keep targets in everything. For travelling, Playing, wearing dresses and so on. He enjoyed every success which is normal to any person.
"YES …..I STARTED CELEBRATING MY SMALL SUCCESS STORIES…AND I REALISED I WAS GETTING MORE AND MORE REASONS TO CELEBRATE MY LIFE WITH EACH PASSING DAY MANY
Even success in small activities like applying jam to bread or eating with my left hand. Example: Applying jam to bread or eating with my left hand brought immense joy into my life."
So the start here means the journey ends here but according to Sharath he has just started his journey. (There is a saying in hindi Abhi kabaddi sharuhya hai)
PRESENT STATE –  MRM and Lifetime coach
MRM has started giving him great results…
Who knew what the power of Gratitude could make a difference in a person more than he does?
Who understands that a Positive mindset can do wonders more than me..

Who has experienced loving oneself is the most important gift you could give yourself more than

Who understands better the power of meditation, Mantras and affirmations more than the benefits it has given to me.
His journey is long and tough but with a mentor like Sharath who knows that the destination is not far from reach, and you should always aim for the stars.