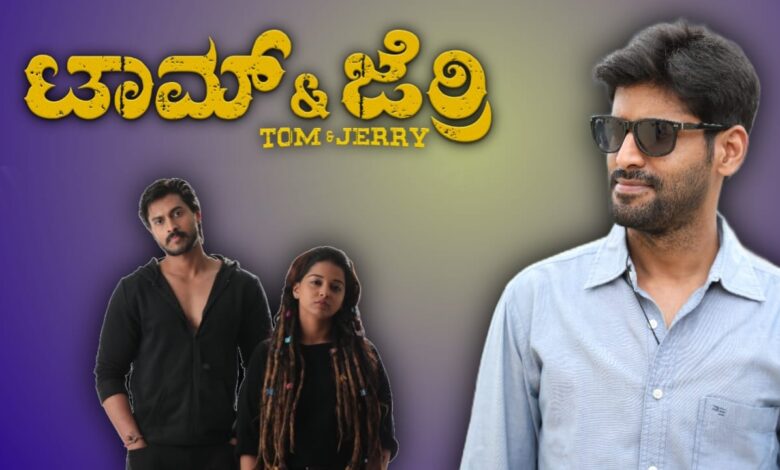 Entertainment
Raghav's debut directorial Tom & Jerry to gets a release date.
The madman's dialogue and the Hale Kannada poem recited by Ananth Nag in KGF created a craze amongst the Kannada cinema lovers. The man behind those dialogues and poem was Raghav Vinay Shivagange. Raghav is now ready to rock the theatre screens with his directorial debut "Tom and Jerry". The film team has finished shooting and is ready for release.
The release date is finalised to November 12.
The first song that was released from the Tom and Jerry movie is the super hit song "Haayagide Yedeyolage". The song has been doing rounds since when it was released on Anand Audio YouTube channel. The song has gotten over 1 crore views in just a few months has really surprised the cinema team! Haayagide Yedeyolage marks the debut of singer Sid Sriram to Kannada film industry. Another video song from the movie, "Kadhal nee Annale", has also been released.  The song "Kaadhal nee Annele" is sung by Swetha Mohan for which Mathews Manu has composed Music.
There are a total of 6 songs in the film, which differ from one another, just according to the vision of the director. Rest of the songs are sung by Keerthan Holla, Manojavam, Mathews Manu and others.  Songs for the film have been written by Raghu Shastri, Athanya Rachana, Arun Prasad and Mathews Manu.
Raju Sherigar is the producer of Tom & Jerry. Raju Sherigar is originally from Kundapur and has established his own company called "Trans Cargo Pvt Ltd" in Gujarat.  Tom and Jerry is his first film and was a dream come true for becoming a producer. Raju Sherigar had long dreamed of making a Kannada film under his production company for a long time.  Vinay Chandra is working with Raju Sherigar as executive producer. The dream, Tom and Jerry is all set to release.
Director Raghav Vinay has shot a very neat film as per the wish and dream of the producer.  "Our producer Raju Sherigar has fully supported the film. His love for cinema is what makes this film so amazing," says Raghav.  Raghav who is originally from Sagara, Shimogga is an actor from the prestigious Rangayana in Mysore. In addition to acting, meditation, yoga and writing interests him. 
Commenting on Tom & Jerry Raghav who has worked on films like KGF, Shravani Subramanya, Shrikantha, Pataki says, "Directing a film has been a dream for a long time now. Fridays mark the life of our lives. I have emphasized on the struggles and comparisons of Middle-class life. The leads of the film will stay together just like the cartoons Tom & Jerry". 
Raghav says that every scene is appealing, with a sense of humor, spectacular scenery, and exciting fights.
The most exciting fact for Raghav is that Prashanth Neel has appreciated the film.
Tom and Jerry male lead is played by Nischith Korodi of Gantumoote fame. "I was very pleased when the directors narrated me the story and the role, because the hero, the heroine, and the supporting cast in the film were close to each other's lives.  The character is nurtured. I have had a body transformation for this film. My character in this is a total flip from the character I played in my debut film Gantumoote," Teerthahalli native Nischith said.
Chaitra Rao, popularly known as Janaki Teacher of Zee Kannada "Jodi Hakki", is the female lead.  Chaitra debuted into the big screen with Puneet Rajkumar's P.R.K productions.  She played the female lead in the film "Mayabazaar". Chaitra in Tom & Jerry is featured in a very different getup.  "My character in this film has a very different shade. Raghav sir's dialogues were very delicate, so I had to keep reading the script while filming the scenes.  There is a lot of expectation about the film. There is a good message in the film," she said. Chaitra's strange hairstyle has already intrigued people and her fans are waiting for the movie.
Surya Shekhar plays the villain of Tom & Jerry. "Tom and Jerry is a special film. It was a dream very close to my cinematic life," he said.
Tom and Jerry has a huge star cast. Some of them being Tara Anuradha, Jai Jagadish, Kote Prabhakar, Kaddipudi Chandru, Rockline Sudhakar, Sampath Maitreya, Padmaja Rao, Prakash Tumminadu, Prashanth Natana, Maitri Jaggi and others.
Sanketh MYS is the Cinematographer of the film.   The film's editor is Suraj Ankolekar and fights are choreographed by Arjun Raj.   Raj Kishore and director Raghav have choreographed the dance.   Ranjana Nitin has designed the costume.  Meera Raghav (Varsha T. Naik) has served as the production head.  RS Nandish, SN Manjunath, Meera Raghav, Sridhar Yadav, Rakshit Arya, Ranju Agumbe, Chandan Basapura, Nakul BM, Ashwath Jaggi, Deepak Bobby, Karthik Sunkenahalli have all worked for this film.
Tom and Jerry is a youth-oriented subject, so there is no doubt that the younger generation will like it.  The film is all set to release on the November 12 and the film has a lot to say about family values.  This film was appreciated by the Censor Board with a U/A certificate.