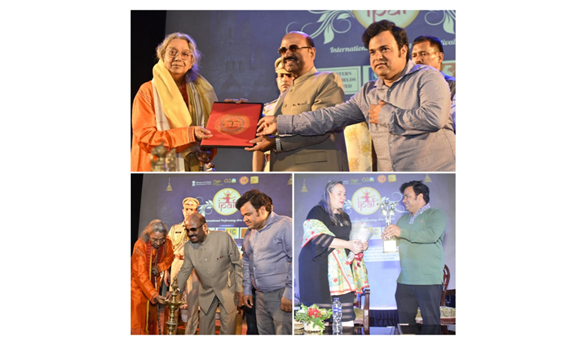 Lifestyle
IPAF's 1st Kala Kranti Lifetime Achievement Award Goes To Padma Shri Pt P. D. Baul
At the Kolkata edition of the International Performing Arts Festival (IPAF), inaugurated by Hon'ble Governor of West Bengal Dr. C. V. Ananda Bose on June 23, 2023, Padma Shri Baul Samrat Pandit Purna Das Baul was presented with the IPAF Lifetime Achievement Award for his outstanding contribution to the traditional Baul music on the world stage. The award was presented to him by Governor Dr. Bose at the prestigious Indian Museum's Ashutosh Birth Centenary Hall. This is IPAF's 5th year in Kolkata with 2 days of cultural programs to support the dying Indian art forms and different artists from Kolkata participated in it along with artists from other states as well.
Pt. P. D. Baul is known for traveling the globe with Bengal's folk music, performing in 156 countries, in front of citizens of the world. He is the biggest name to be associated with Indian traditional music, especially when it comes to the Baul Gharana. Purna Das was first acknowledged as the 'Baul Samrat' (King of Baul music) in 1967 by none other than Dr. Rajendra Prasad, the first President of independent India.
At this year's editions of this 5-year-old festival, held in different Indian cities, the IPAF will give 5 Lifetime Achievement Awards to different artists, recognizing their contribution to the field of Arts. Besides, it will also recognize the young talented artists in the field with its 3 Youth ICON Awards.
The Day 2 of the festival on June 24, 2023, was inaugurated by Ms. Melinda Pavek, U.S. Consulate General in India.
The Day 1 performances included the following –
Young Tribal Artist Birajini Sabar, a young tribal artist from Odisha mesmerized the audience with her songs.

Jalsa Chandra Performing Troupe won everyone's hearts with TWAMAHAM VANDE's "I WORSHIP YOU".

Kalakhetram presented "Mahamanober Sarorotire" by Dr. Subhashish Bhattacharya & Susmita Bhattacharya Troupe.
Day 2 of the festival was marked with the following performances –
Aastame Sharmistha presented Sanskrit chanting.

Ruchira Jain presented a rich collection of Avadhi folk songs, as an ode to the Monsoon to welcome the month of "Saawan" and won hearts with her group's performance of Awadhi Folk Music.

Shrutibritto presented Shanti Sumahaan Concept and Suvodeep Chakraborty showcased "Tagore against Terrorism".
IPAF is an initiative by Shyam Pandey, which works extensively to unite societies through culture and arts globally. IPAF has been encouraging various art forms as well as holistic traditions through performing arts across societies. It also supports Vayu Yoga, various classical dance forms, differently-abled artists, and upcoming artists too. Speaking about the mission of IPAF, he says, "We believe that the future of traditional arts and promotion of such arts through performing arts could be very inviting and entertaining throughout the world."