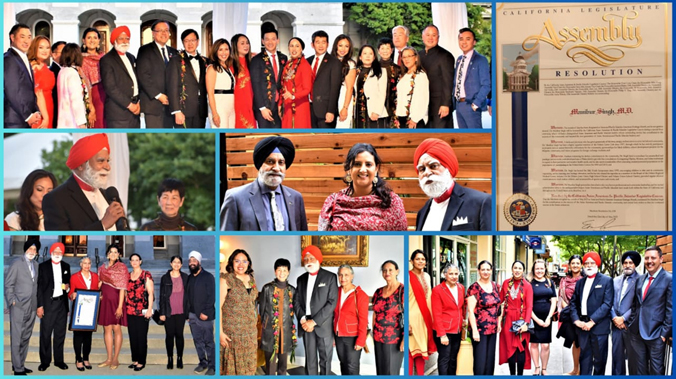 World
Indian Sikh Doctor Honoured by Asian American & Pacific Islander Legislative Caucus
California [USA]: California's Joint Asian American & Pacific Islander Legislative Caucus celebrates its AAPI Heritage Month activities. The celebration kicks off with a social media campaign honoring its 12 honorees. The Joint AAPI Legislative Caucus honored distinguished AAPI leaders from various esteemed organizations. The Caucus recognized these individuals during a special floor ceremony dedicated to honoring leaders who have extensively served and represented AAPI communities. Dr.Manbir Singh is the only Indian out of 12 members from the State of California. As per Dr Manbir Singh, "We are the visible minority and have challenges daily while living over 40 years in the country. While working in the rural mostly Hispanic area still I was awarded as a Grand Marshall of the Christmas parade of 2019. It tells that serving humanity will always rewards you above and beyond race, colour, gender and nationality." Dr. Singh was recommended by Assembly member from 35th district Dr Jasmeet Kaur Bains who made the history by electing as a first Sikh Assembly Member in the year 2022.
Dr Manbir Singh is a resident of Bakersfield and known for his kindness and community services and a dedicated physician who has given generously of his time, energy, and resources to serve his beloved community, Dr. Singh has been a highly regarded member of the Delano Lions Club since 1997, through which he has actively participated in projects such as annual fireworks celebrations for the community, sponsorships for blind children, school development projects for the Hispanic community, and visitor programs for foreign exchange students. Further evidencing his tireless commitment to the community, Dr. Singh hired a consultant for paramedical and paralegal services in the underdeveloped area of Bakersfield to provide free consultations for migrating Filipinx, Mexican and Indian individuals in regard to their preventive and curative health needs, and he also spent considerable effort educating underrepresented populations in the importance of participating in the United States Census for 2000 and 2010. Apart from this, Dr.Manbir Singh has also been awarded as 50 prominent Sikhs of USA in 2019 & Jewels of India in January 2023.
Dr. Singh has hosted the Sikh Youth Symposium since 1999, encouraging children to take part in community organizing, service learning, and heritage education, and he has also shared his expertise as a member of the Board of the Delano Regional Medical Centre, lectured for the Delano Joint Union High School District and Delano Union School District, provided regular physical examinations to local student athletes, and sponsored local sports teams and events. Dr.Manbir Singh personifies that which is the very best in professional and community leadership, and his myriad achievements attest to the lasting positive impact Asian Americans and Pacific Islanders have made both within the State of California and throughout the United States.
According to AAPI, "The AAPILC is honored to recognize these individuals who have demonstrated leadership and character in their work. Their efforts in serving the community have helped many AAPI communities across the state access medical and legal resources and care. The individuals being honored by the AAPI Legislative Caucus represent the very best in their respective fields and highlight the vibrant diversity of the great state. These individuals serve as notable representatives of the AAPI community. Their passions and ambitions in helping AAPIs have created a profound impact in advocating for equal opportunities, enabling AAPI organizations to optimize their goals, and motivating others to do the same. We must acknowledge these individuals for what they have done for AAPIs." Importantly, caucus is working on the prevention of hate crime and discrimination towards Asian Community and enhancement of the minority Asian community.