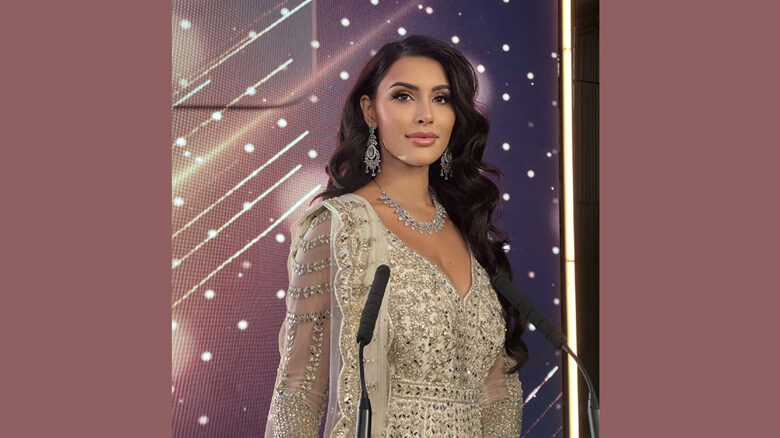 World
Glamorous Deana Uppal hosts the prestigious Asian Achievers Awards-World Media Network
The UK's most prominent and longstanding celebration of British Asian achievement across multiple fields. Asian Achievers Awards tribute to Her Majesty Queen Elizabeth II at the annual ceremony, which took place on Friday 23rd September at Grosvenor House, Park Lane, London. Dame Arlene Foster DBE PC, Former First Minister of Northern Ireland, led the tribute with a one-minute silence to inaugurate the ceremony.
Actor Nitin Ganatra OBE and entrepreneur hosted the evening along with Deana Uppal, a philanthropist and documentary filmmaker, and Television personality who has produced, directed and hosted the 'Indias Forgotten People' documentary, which can be currently seen on Netflix. The pair added extra glam to the event, Deana Uppal looked stunning as always and spoke confidently with class, whilst Nitin was excellent in getting the crowd pumped up.
Deana Uppal and Nitin Ganatra welcomed the guest list, including celebrities, public figures, VIPs and dignitaries.
In the ten categories, including Art & Culture, Business Person of the Year, Entrepreneur of the Year, and Community Service, the Asian Achievers Awards received more than 500 nominations, from which the judges shortlisted four per category, evenly divided between male and female candidates.
This year's judging panel reflected the diversity and experience of the nominations received. It included Former Deputy Assistant Commissioner of the Metropolitan Police, Bas Javid; Former President of the Royal College of General Practitioners, Dr Mayur Lakhani CBE; COO of Monzo Bank, Sujata Bhatia; music producer, Bally Sagoo; Welsh Assembly Member Natasha Asghar; and Artistic Director of Darbar Festival, Sandeep Virdee OBE.
Deana Uppal said, 'It was an honour to host this year's Asian Achievers Awards and also pay tribute to Her Majesty Queen Elizabeth II with a one-minute silence before the inauguration of the ceremony. The awards are vital in giving extra support and encouragement to these businesses that deserve recognition. Congratulations to all the shortlisted finalists and winners!
This story is released by Satish Reddy from World Media Network.