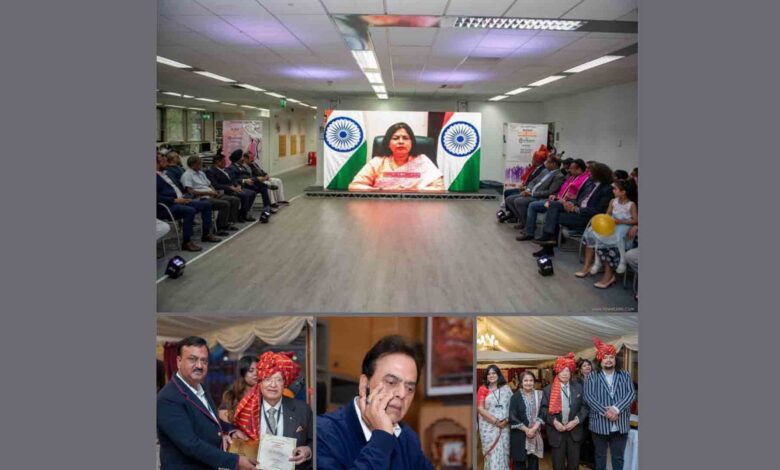 National
"Bharat Mahotsav" Festival of One India at London 2022
"Bharat Mahotsav" Festival Of One India held from 20th to 25th April 2022 in London, UK with the theme being "Azadi Ka Amrit Mahotsav" & 75 Years of Indian Independence in Association with Incredible India, Azadi Ka Amrit Mahotsav, All India Motor Transport Congress (AIMTC), Queen Mary Indian Society, The India Business Group (IBG), Indian National Students Association, Sanskruti Centre For Cultural Excellence, Hindi Shiksha Parishad UK, Ecole Supérieure Robert De Sorbon, Tatsat Chronicle, Mag Travels Pvt Ltd. Venue Partner is ABA- Applied Business Academy Media Partners are Lyca Media &Lyca Radio.
The Honorable Minister of State, Ministry of Culture and External Affairs, Smt. Meenakshi Lekhi, was the 'Chief Guest' at the confluence. The host of the event was Lord Raj Loomba, a member of the House of Lords. Dr. Amitabh Shrivastav curates The Confluence, and Dr. Smita Shrivastav is the founder of Bharat Mahotsav. Smt. Meenakshi Lekhi was awarded honorary doctorate from Ecole supereure Robert de Sorbon France by Dr JN Thomas Prade. This was well received by Mr Rohit Wadhwana Head of economic wing Indian high commission in London on behalf of MOS Mrs Meenakshi Lekhi Hon minister of external affairs and culture of India.
CONFLUENCESPECIAL GUEST OF HONOUR Where Phoebe Koundouri– Economics Professor & Global Leader In Sustainable Development, Dame Dr. MunniIrone– The Royal Queen Of Beverly Hills, Global Philanthropist Ceo/Founder Of Art 4 Peace awards/Arts 4 peace awards, Jude Elie– Presidential Candidate Haiti, J.C. Chaudhry– Chairman At Aakash Educational Services Limited (Aesl), Chris Eubank– British Former Professional Boxer, Manoj Gaur- Chairman & Managing Director Of The Gaurs Group, Dr. John Thomas Prade– Ecole Supérieure Robert De Sorbon, Kunal Gupta-Director K.R. Mangalam Group Of Schools And University, Ravinder Singh– Independent Journalist Contributing To International And National Media Houses, Manju Gaur Group Director, Satinder Singh Rekhi– CEO, R Systems, Mohan Singh Verma– Ex. Metropolitan Councilor – Oslo Norway Convener – Bjp Scandinavian Countries (Norway, Sweden, Denmark & Finland) Rakesh Kumar Sonkar- Politician & Social Worker, Parveen Rani– Brand Ambassador Of Confluence , Founder Of Hindi Shiksha Parishad & Mrs. India UK Goodwill Queen 2018
FELICITATED TOPruthvi Raj Reddy Gillella– Entrepreneur, Investor & Turnaround Specialist, Life Designer Dr. Acharaya Jeetu Singh– Best Celebrity Astrologer &Phd In Vedic Astrology Guest Panellist On National Channels, YogeshKochhar– Founder Of Your One Life, Dr. Vinod K. Verma– Vice President, Group Corporate Affairs & Head Regulatory Affairs, Aditya Birla Group, Kultaran Singh Atwal– President Of All India Motor Transport Congress, G R Shanmugappa– Former President All India Motor Transport Congress, Rachana Chourasia Rajendran– Secretary General Of "Taekwon-Do Association Of India", Reema Virdee- Founder And Director Of Rvedaa Limited – Uk And India, RenuBamrara- Tourist Information Officer Indiatourism London High Commission Of India, India House, Aldwych London Wc2b4na, United Kingdom, London, Khushwinder Singh– Founder & President Director General, Mada Group of Companies, Gurpreet Singh Shah– Principal Architect, Creative Group, New Delhi Events
SWADESHI CULTURE Rina Dhaka– Celebrity Fashion Designer referred to as Gautier of the East by BBC, Simran Ahuja– Emcee, Fashion Designer & Brand Ambassador of Label Smita, Sandip Soparrkar– Indian Latin and ballroom dancer, Bollywood choreographer & multiple artist, Ragasudha Vinjamuri– Founder, Sanskruti Centre For Cultural Excellence & performance by kids of  Hindi Shiksha Parishad UK
Confluence was held in London, depicting one India with the hashtag #IAMSWADESHI. The concept note of "Bharat Mahotsav" is to promote one India and its initiatives like "self-reliant, make in India, digital India, and incredible India". And this festival theme revolves around the celebration of Azadi Ka Amrit Mahotsav and 75 years of Indian independence.
The confluence aims to promote culture, trade, art, startup, innovations, sustainable development, Indian fashion, handloom, tribal products, tourism, women's empowerment, and the heritage of India by promoting entrepreneurship, empowerment, and business development, networking opportunities, addressing environmental concerns, and felicitating people with excellence in their respective fields.
Smt. Meenakshi Lekhi, The Honorable Minister Of State, Ministry of Culture And External Affairs, Said "I Am Pleased To Be Part Of Confluence 'Bharat Mahotsav' – Festival Of One India In London From 19th To 25th April 2022 To Promote Indian Culture, Local Indian Fashion, Handloom And Tribal Products On An International Level And To Provide A Global Platform To Unsung Talented Artisans, Weavers, And Craftsmen Of Our Country To Showcase Their Unique & Indigenous Talent. Confluence Has Planned Various Cultural, Business, And Knowledge Exchange Events To Achieve This Goal, Which Coincides With The 'Make In India' Initiative And Celebrates 'Azadi Ka Amrit Mahotsav,' Two Of Our Honorable Prime Minister Shri Narendra Modi's Most Novel And Inspiring Initiatives. I Commend Confluence For Taking This Initiative And Furthering The Esteemed Vision Of Our Honorable Prime Minister And The Government Of India.
Dr. Amitabh Shrivastav Bharat Mahotsav, curator, and Dr. Smita Shrivastav Founder Bharat Mahotsav said, "Our Quest Is to Take Art to a Common Man's Lobby and Bring More Light to Its Beautification. Give India Art Its Ability To Earn Its Livelihood. Keeping That in Mind, Confluence Gift, A Broader Spectrum We Are Eyeing, Gets The Elevation And Takes The Corporate Gifting Option To A Newer Level. Taking inspiration from "Make In India", The Idea Of "Confluence" Was Initiated With The Simple Thought Of Bridging The Gap Between Art, Artisans, And The Commoner.