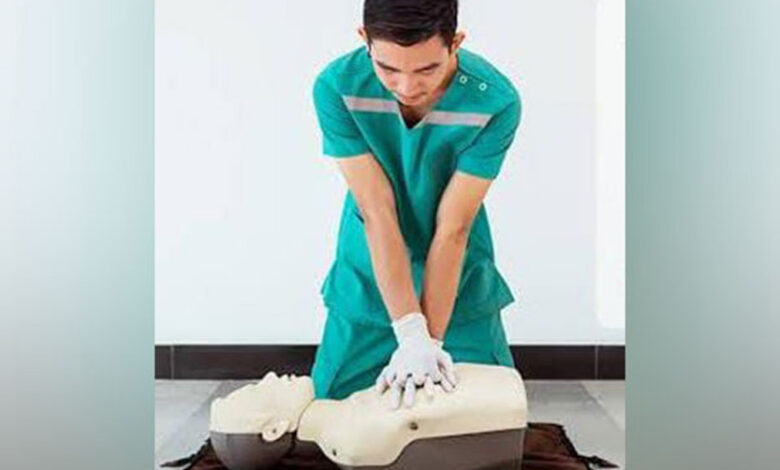 Health & Fitness
A Coworker's Heroic CPR and AED Deployment Saves a 52-Year-Old Man from Cardiac Arrest
Mr. Mallikarjun Hiremath, a 52-year-old male, was an employee at Quest Global and had a history of hypertension, a known risk factor for cardiac events. While at work, Mr. Hiremath experienced an unexpected sudden cardiac arrest, causing him to collapse. His colleague, Mr. Harish, recognized the urgency of the situation and quickly administered cardiopulmonary resuscitation (CPR) and utilized an (Automated External Defriberator (AED) at office) to shock his heart back to life. Since early defibrillation was required to restart the heart. These immediate actions played a crucial role in maintaining blood circulation and oxygenation, increasing the chances of successful resuscitation.
After this, Mr. Hiremath was rushed to Sakra World Hospital for further treatment under the supervision of Dr. Deepak Krishnamurthy, a Senior Consultant and Interventional Cardiologist. In the emergency department, the medical team diligently persisted in resuscitation efforts, administering six additional shocks ultimately culminating in the successful restoration of pulse and blood pressure.
"An immediate ECG was conducted on him which showed evidence of a heart attack, followed by which he was shifted to the Cath lab for an emergency angiogram and angioplasty, which revealed a 100% blockage in one of Mr. Hiremath's coronary arteries, indicating a heart attack", said Dr. Krishnamurthy.
A successful angioplasty was performed to clear the blockage in the affected coronary artery. Following the procedure, Mr. Hiremath was closely monitored and received critical care in the Cardiac Care Unit (CCU) for four days while on a ventilator. After four days, he regained consciousness.
After five more days of observation, Mr. Hiremath fully recovered from his heart and brain conditions. He made remarkable progress during his hospital stay.
Dr. Krishnamurthy appreciated Mr. Hiremath's friend's understanding of medical situations including CPR and AED, which was crucial in ensuring his survival by preserving blood flow and oxygenation and raising the likelihood of a successful resuscitation up to the arrival of professional medical aid. Mr. Harish's prompt action and successful intervention bought Mr. Hiremath valuable time, ensuring the best outcome possible during the emergency.
"Quick CPR and early shock during a cardiac arrest, supply blood to the brain, or in only a few min (max 8-10 min) the brain gets damaged. CPR is as easy as C-A-B. Compression, Airway, Breathing. Compression is pushing hard and fast in the center of the chest to rescue breaths to circulate oxygenated blood throughout the body. Then by tilting the victim's head back and lifting the chin to open the airway. The last step is breathing which is giving mouth-to-mouth rescue breaths. Followed by 2 breaths in every 30 compressions. Since Cardiac arrests have a very low survival rate. The rate can be improved by immediate CPR and the availability of AEDs. Hence, people should be aware of CPR and automated external defibrillators (AEDs) to restore a normal heart rhythm." said Dr. Krishnamurthy.