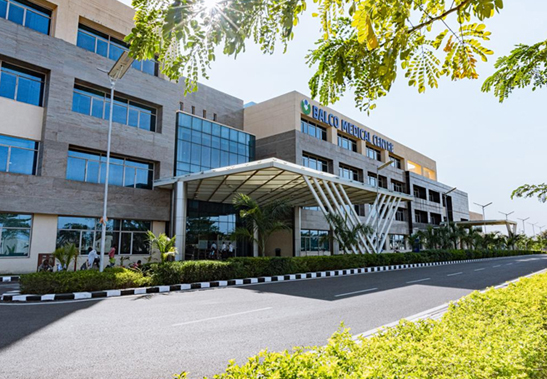 Health & Fitness
Bolstering Cancer Care: Balco Medical Centre announces Chhattisgarh Cancer Conclave 2023
Balco Medical Centre (BMC), a central India's top oncology facility dedicated to providing quality cancer care, has announced the first edition of the Chhattisgarh Cancer Conclave 2023, to be held between 17th – 18th June, 2023. Centred around the theme 'Cancer care closer to home – Shifting paradigms,' the conclave aims to address existing gaps in cancer treatment, care, awareness, infrastructure, and expertise in Central India, and facilitate expert dialogues towards enhancing the quality of medical care available in the country.
The Chhattisgarh Cancer Conclave is conceptualised as an annual event led by the Balco Medical Centre, bringing together top oncologists from across the country and beyond. The event aims to endow clinicians with enhanced awareness on the latest advancements in oncology, enabling them to provide best-in-class medical care. The range of professionals set to attend include surgical oncologists, radiation and medical oncologists, epidemiologists, preventive oncologists, physicians from allied specialties, general medicine practitioners, and trainees in these fields. Several renowned national and international faculty members have also been invited to deliver presentations providing deeper insights into their respective areas of focus. The conference will also feature two pre-conference workshops: a live surgery focusing on breast cancer, and KEVAT- A Patient Navigation Program, at the Balco Medical Centre.
Sharing her thoughts on the upcoming Conclave, Ms. Jyoti Agarwal, Chairperson, BMC said, "The inaugural edition of the Chhattisgarh Cancer Conclave 2023, led by the Balco Medical Centre, marks a significant milestone in our journey to revolutionize cancer care in India. With the theme 'Cancer care closer home – Shifting Paradigms,' being in close sync with our mission to make quality cancer care accessible to more people, this event brings together top experts in the field, fostering collaboration and knowledge exchange. We are committed to creating a cancer-free society and ensuring that every patient receives the best available care. It is crucial to work together in delivering hope to those affected by cancer."
Dr. Bhawna Sirohi, Medical Director of BMC, expressed her thoughts on the conclave, stating, "We believe in driving a three-pronged approach, namely through cancer prevention, early diagnosis, and prompt treatment, to improve patient outcomes. The Chhattisgarh Cancer Conclave 2023 is an opportunity for clinicians and healthcare professionals to come together, share their knowledge, and collaborate more effectively towards building a cancer-free future., Our relentless goal is to transform cancer care in central India. This Conclave will prove instrumental in bringing a paradigm shift towards how we approach this mission together."
The Balco Medical Centre is a 170-bed state-of-the-art tertiary care oncology facility based in Naya Raipur, Chhattisgarh. It has emerged at the forefront of cancer care in the country, providing multidisciplinary treatment and support to over 18,000 patients, over 3200 radiation patients, 1100 brachytherapy patients, 4200 surgeries, 30,000 chemotherapies, and over 40 BMT since its inception in 2018. The hospital boasts a team of highly skilled healthcare professionals, advanced diagnostic and therapeutic technologies, and a commitment to comprehensive care. Conceptualized under the aegis of the Vedanta Medical Research Foundation and backed by the Anil Agarwal Foundation (AAF), BMC is on a mission to contribute to the prevention of cancer and related illnesses, working tirelessly towards a cancer-free society.
The hospital is recognized as a referral center for advanced radiation therapy, brachytherapy, nuclear medicine, surgeries, chemotherapy, immunotherapy, blood-related disorders, plastic and reconstructive surgery, and pain & palliative care. BMC also emphasizes psychological, nutritional, and physical therapy, along with patient support groups for emotional well-being.
In its continuous pursuit of excellence, BMC has also signed a Memorandum of Understanding (MoU) with Tata Memorial Centre (TMC), Mumbai, to enhance expert knowledge exchange and elevate the medical solution in the country. This collaboration enables BMC to leverage TMC's rich expertise and extensive record in cancer treatment, ultimately benefiting patients from both within Chhattisgarh and neighbouring states.