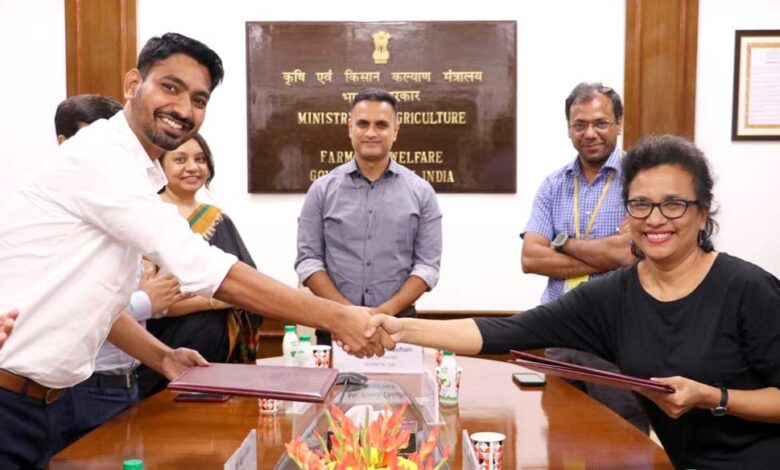 Agriculture
UNDP India partners with Absolute to further sustainable agriculture practices under the government's (PMYBY) scheme
The partnership will promote innovation and digitalization of PMFBY and strengthen risk financing for a resilient farm sector in India.
New Delhi: United Nations Development Programme (UNDP) and Absolute®, a leading bioscience company, today signed a Memorandum of Understanding (MoU) to strengthen the government of India's flagship Pradhan Mantri Fasal Bima Yojana (PMFBY) and enhance the resilience of the farmers.
India faces challenges such as weather fluctuations, pest attacks, erratic rainfall, and humidity affecting agricultural produce. These factors lead to lower yields and income for farmers each year. From 2015 to 2021, India lost 33.9 million hectares of cropped area due to floods and excess rains and 35 million hectares due to drought.
PMFBY, or Prime Minister's Crop Insurance Scheme, offers risk protection by providing financial support to farmers suffering crop loss/damage arising out of these unforeseen events, thus stabilizing their income, encouraging them to adopt innovative and modern agricultural practices and ensuring the flow of credit to the agriculture sector for food security, crop diversification and enhancing growth and competitiveness of agriculture sector.
The partnership between UNDP India and Absolute® aims to enhance the implementation of the PMFBY and the Restructured Weather Based Crop Insurance Scheme (RWBCIS) by building technical capabilities of the scheme and digitalizing service delivery of crop insurance and agricultural credit processes to increase reach and uptake of the schemes. It will also promote credit profiling of farmers, agri-entrepreneurs, and Farmer Producers Organizations (FPOs), for accurate crop loss assessment and risk evaluation to mobilize agriculture financing.
UNDP and Absolute® will also use advanced technology and data-driven solutions to facilitate farmland identification and enhance farm monitoring, R&D, and analytical capabilities to facilitate data-driven policymaking and fraud analytics, ensuring efficient and transparent delivery of government support to vulnerable farmers.
Speaking on the partnership, Agam Khare, Founder & CEO, Absolute®, says, "We are witnessing an increasing trend of climate driven yield losses in agriculture. This partnership with UNDP is a strong step forward in mitigating this increasing risk pattern which can potentially impact over 120 million farmers across the country. This initiative is in line with our vision to reimagine what's possible in Agriculture by intersecting core plant science with technology. This will help us move one step closer to achieve our goal of empowering farmer communities & making agriculture climate resilient."
UNDP has been working with the Ministry of Agriculture& Family Welfare since 2018.In 2022, UNDP's technical support unit at the Ministry helped reach out to 1.71 crore farmers through various information, education, and communication (IEC) campaigns such as Crop Insurance Week and organized more than 2.39 lakh Fasal Bima Pathshalas or crop insurance classroom sessions.
On the extreme left is Agam Khare, Founder & Group CEO of Absolute, flanked by Shri. Ritesh Chauhan, Joint Secretary & CEO-PMFBY, Government of India, and Shri. Gajendra Singh, PS to MoS (DAHD), Government of India. Also present is Ms Kamna R. Sharma, Additional Commissioner DA&FW, Government of India.
"Risk is an inherent part of agriculture and is one of the biggest roadblocks in improving the lives of farmer communities in India. This collaboration is an important step towards strengthening the risk and credit ecosystem for agriculture in India. UNDP India is committed to working with the government and partners to help farmers in India rise with resilience", says Amit Kumar, Head, Sustainable and Inclusive Growth, UNDP India.
The infusion of technology through this partnership will also facilitate a robust credit flow to the agriculture sector, thereby strengthening food security, crop diversification, enhanced growth, and competitiveness of the agriculture sector in India.
Absolute® is a bioscience company leveraging billions of years of nature's intelligence to reimagine solutions to humanity's greatest challenges.
Through its R&D arm Xenesis, Absolute® is leading research on Agriculture, Biomaterials and BioCare. In the Agriculture segment, Absolute® operates 3 core business lines – Upaj (a Universal Digital Ag Platform), Inera (Revolutionary Bioabled Farm Inputs), and Silkroute (Digital Agri Trading Platform). 
Absolute® is backed by Marquee Investors like Sequoia, Tiger Global, and Alpha Wave.
UNDP has been working in India since 1951 in almost all areas of human development. Together with the Government of India and development partners, it works towards eradicating poverty, reducing inequalities, strengthening local governance, enhancing community resilience, protecting the environment, supporting policy initiatives and institutional reforms, and accelerating sustainable development for all.