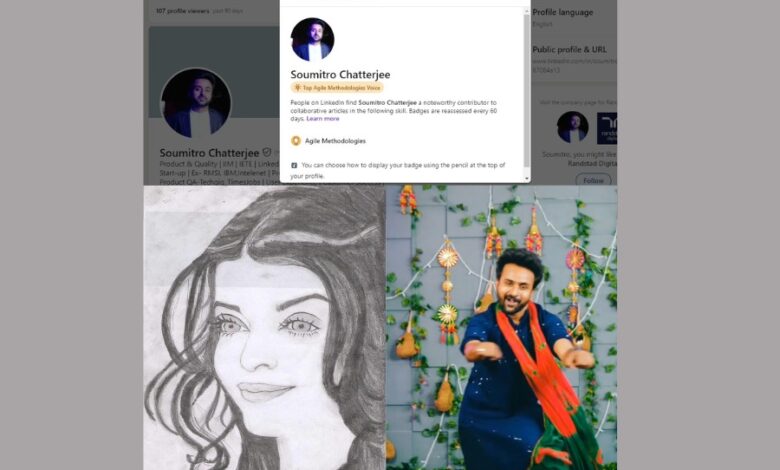 Lifestyle
Soumitro Chatterjee: Inspiring Change and Empowering Lives through Talent and Passion
In today's fast-paced digital age, where personal branding and influence have become paramount, Soumitro Chatterjee is a shining example of dedication, passion, and multifaceted talent. As a seasoned Product and Quality professional at Times Business Solution, Soumitro has not only showcased his exceptional expertise in IT-Software/Product/E-commerce but has also become a beacon of positivity, inspiring both niche and mass audiences alike. With a stellar background from one of the top management institutes, IIM Kozhikode, Soumitro's journey is nothing short of inspirational.
Soumitro's impact on society is profound and far-reaching. His innovative product strategy and management approach have transformed the digital landscape, contributing significantly to the growth of various domains. Through his strategic thinking and exceptional leadership skills, he has bridged the gap between diverse sectors, fostering collaboration and driving results.
Beyond his professional achievements, Soumitro is multifaceted, excelling in diverse fields. As a Dance and Acting  enthusiast, he has captured the hearts of thousands on platforms like Instagram and Facebook, using #40kadum #soumsri2 for his mesmerising dance videos. His accolades extend to the professional realm, where he was recently honoured with LinkedIn's prestigious Top Voice award, a testament to his influence in the digital sphere. 
In addition to his mastery in product strategy, Soumitro is an avid sketch artist, a culinary expert, and a Carrom Champion, showcasing his creativity and skills in various forms. His passion for art and culture is not limited to his pursuits; he actively engages in social gatherings, public speaking, hosting events, and managing get-togethers and parties.
Soumitro's dedication to his craft and his ability to balance his passion with his professional responsibilities serve as an inspiration to many. His story resonates with those aspiring to make a mark in the digital world, emphasising the importance of perseverance, talent, and a multifaceted approach to life.
For more information, please visit:-
https://www.instagram.com/soumsri2?igshid=MXYybTRhbnRtOHA3aA%3D%3D