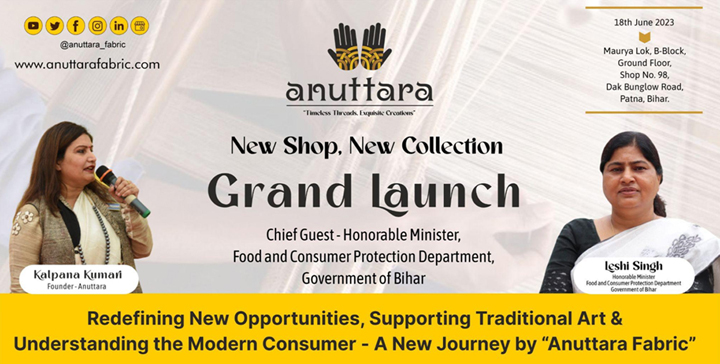 Lifestyle
Redefining New Opportunities, Supporting Traditional Art, and Understanding the Modern Consumer – A New Journey by Anuttara Fabric!
In the heartland of Bihar, where the rich cultural heritage is interwoven with the threads of tradition, a remarkable story is unfolding. Anuttara Fabric, an emerging brand, is poised to make a significant impact by redefining new opportunities, supporting traditional art, and understanding the needs of the modern consumer. Under the dynamic leadership of Kaplana Kumari and Tanya, the mother-daughter duo who are the founders of Anuttara, the brand recently underwent a rebranding process, heralding an exciting new chapter in their journey.
Anuttara Fabric is not merely a business venture; it is a heartfelt endeavor to empower local artisans, weavers, and preserve the traditional national art forms of Indian history and culture. Bihar, with its rich handloom weaving traditions and exquisite handicrafts like Madhubani art, provides a fertile ground for Anuttara's vision. By providing sustainable livelihoods to skilled artisans, Anuttara is ensuring the continuity of these art forms, reviving Bihar's cultural legacy, and creating a positive impact on the local economy.
The handloom fabric holds a special place in the hearts of connoisseurs of fashion. It is not just a piece of cloth; it represents centuries-old traditions, impeccable craftsmanship, and the hard work of artisans who pour their heart and soul into creating each masterpiece. Anuttara recognizes the superiority of handloom fabric over mass-produced textiles. The unique textures, vibrant colors, and intricate patterns of handloom fabrics resonate with the modern consumer's desire for authenticity, sustainability, and ethically made products.
Exciting news awaits all fashion enthusiasts and lovers of handloom fabric. Anuttara Fabric is all set to launch its new store on the 18th of June at Shop No. 98, Maurya Lok, Patna. The grand inauguration ceremony will commence at 2 PM, graced by the esteemed presence of Leshi Singh, Bihar's State Minister of Food & Consumer Protection Department, as the chief guest. This honorable presence signifies the government's recognition of the value of traditional arts and the pivotal role they play in preserving cultural heritage and supporting women entrepreneurship.
Anuttara's new store launch is not just a celebration of fashion; it represents a commitment to empowering local artisans, weavers, and the community at large. The founders, Kaplana and Tanya, envision a future where traditional art forms thrive, and the skilled artisans find financial stability and social recognition. With their dedication and expertise, Anuttara is not only providing employment opportunities but also creating a platform for these talented individuals to showcase their artistry to a global audience.
Anuttara's journey is not limited to retail alone. They are also expanding their reach through wholesale offerings and franchise models, inviting aspiring entrepreneurs to join their mission. By partnering with Anuttara, individuals can embrace the spirit of entrepreneurship while contributing to the growth of the handloom and handicraft sector. To explore the wholesale and franchise opportunities offered by Anuttara, visit their website at www.anuttarafabric.com.
As Anuttara opens its doors to the new store, it beckons fashion enthusiasts, art lovers, and conscious consumers to step into a world of exquisite handloom fabrics. Discover the richness of Bihar's weaving traditions, the artistic brilliance of Madhubani art, and the captivating designs that seamlessly blend tradition with contemporary aesthetics.
Anuttara Fabric is more than just a brand; it is a movement that honors the legacy of artisans, empowers local communities, and preserves the cultural heritage of Bihar. Join them on this transformative journey and become a part of the tapestry that weaves together tradition, artistry, and sustainable fashion.
Together, let us celebrate the spirit of craftsmanship, support local artisans, and embrace the beauty of handloom fabrics. Anuttara Fabric welcomes you to experience the magic of timeless traditions and embark on a journey of elegance, grace, and conscious fashion.