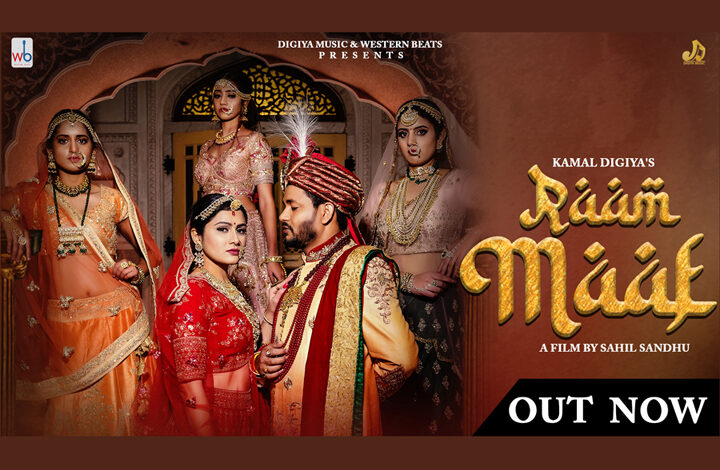 Entertainment
'RAAM MAAF' by Kamal Digiya: Haryana's historic milestone music video is out on YouTube
Digiya Music and Western Beats, in collaboration, released their latest music video 'Raam Maaf' on Saturday 8th January, marking the historic contribution to the Haryanvi music industry, Mr Kamal Digiya, the owner of Digiya Music and star of the music video "Raam Maaf" has brought in an inspiration with his trust on team Western Beats – Director Sahil Sandhu. This video is a milestone for the Haryanvi music industry and a proud creation for both the entities. The Music Video is available on YouTube and is a must-watch for cinema lovers
The extensive historic milestone music video of the Haryanvi industry is produced by Mr Kamal Digiya with Co-Producers Ms Hanssika Digiya and Mr Harshit Digiya.
The concept is planned and executed by 52 Gaj ka daman famed Director Sahil Sandhu with his team of Directors and assistants, who worked day and night with him to make this project so grand.
Mr Sandhu, in an interview, stated that "this project was a dream project for him, if Haryanvi songs can reach to the level of Bollywood then why not the videos match upto the level." Stating this, the director thanked Mr Digiya for having faith and trust in him to get this concept on screen. The video was shot in 3 days on 3 different venues; hence it looks grand, and it has given new heights to the Haryanvi music and Music Videos.
The video stars Mr Kamal Digiya as the King, Ms Diksha Pawar, Ms Kashika Sisodia, Ms Prachi Chaudhary, Ms Sakshi Dhama as the queens. The story portrays a sequence of events that happens in a glimpse. The king enters his castle after a war victory with the conquered queen, to which the eldest queen is not happy with the king. The story concludes with the queens planning to kill the cruel king, and at last, they succeed. The video is a huge grandeur and a must-watch.  
The video looked really beautiful on the concept and technical aspects. The Director of Photography was under the command of Mr Mintu Plaha and Beautiful choreography under Mr Amit Siyal. The director's war concept and storyline were on point and looked beautiful when the video was out. 
The song is sung by Balam Alto, famed Ms Vandna Jangir. She says that this is the biggest song of her life. With this, she thanked Mr Digiya for trusting her and giving her such an opportunity to be a part of this historic project. The song is written by Mr Anil Dayma, and the music is composed by Melody Records.
Moving forward, Director Mr Sandhu told us that "I am thankful to my team for such an amazing support Creative Director: Sumit Saniwal, Executive Director: Paras Batra, Assistant Directors- Siddharth Kukreja, Raj Dhyani, Rohit Kumar, Shubham, Editor & Colourist- Ajy Lohan and also my special thanks to 'Ms Pranjal Dhaiya' for always being an integral part and strong support of the Western Beats team". 
He further added about how challenging it was to work for a 22-24 hours schedule for 3 days with 1 day of rest shooting this video and getting the desired output because Mr Digiya always pushed him forward to put into his creativity and never created creativity barriers for him.
The director wishes to uplift his creativity level and achieve more milestones like Raam Maaf. He concludes by praying for the best for the Raam Maaf music video and looks for the support of the audience for making this milestone memorable. 
Instagram: @kamaldigiya__official, @directorsahilsandhu