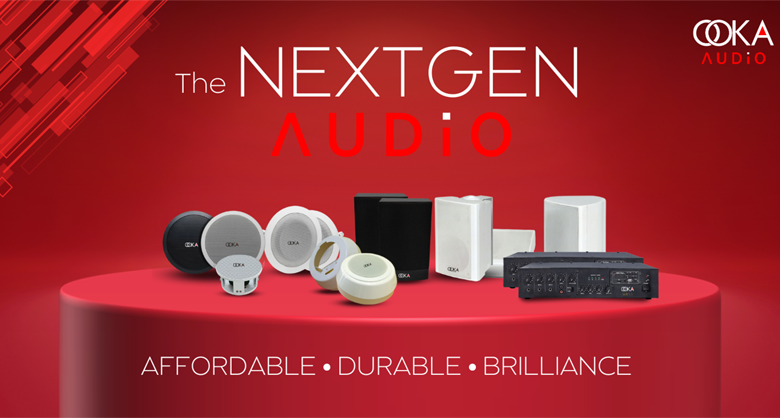 Business
Ooka AUDiO: A Game-Changer in the World of Audio Technology
AFFORDABLE|DURABLE|BRILLIANCE
Few years ago, a start-up dared to change the retail/In-store radio market in India. Today Ooka Radio is a pan India brand with 8000+ Stores/Malls/Shatabdi trains/Gyms/Salon/Café's all over the country. From cities to metros to towns and suburbs, we believe that technology should seamlessly integrate into any retail environment without compromising on aesthetics.
Understanding the challenges retailers face in deploying audio systems, and a leading provider of music solutions, Ooka has taken guard of its second innings & launched Ooka Audio. And thrilled to announce the launch of our latest range of PA music system loaded with world class quality speakers, Amplifiers & Mixers specifically designed for retail shops. With a focus on delivering exceptional sound quality, versatility, and ease of use, our new initiative aims to revolutionize the way retailers engage with their customers and create immersive shopping experiences. A brand specializing in exclusively developed sound equipment for the demanding retail industry.
2 Years Warranty on Products: Peace of Mind Guaranteed
We believe in standing behind the quality of our products with an unmatched 2-year warranty. Your satisfaction and peace of mind is our top priorities. With our exceptional warranty, you can enjoy your audio equipment, knowing that you are protected against any manufacturing defects. Experience unparalleled confidence in your audio investment and embark on a worry-free audio journey with us.
Unleash the Power of Unrivalled Sound
The new range of Ceiling Mount Speakers & Wall Mount Speakers of Ooka Audio incorporates cutting-edge sound technology, delivering crystal-clear audio that envelops the retail space. With enhanced frequency response and powerful amplification of Slim Amplifiers, retailers can create an immersive auditory experience that captivates customers and enhances their overall satisfaction.
Best audio product at affordable price:
Our new PA music Speakers/Amplifiers feature a sleek and modern design that complements various store settings, ensuring they blend seamlessly with the existing decor. Available in different sizes and configurations, our speakers offer flexibility in placement, whether mounted on walls, suspended from ceilings, or placed discreetly on shelves. This versatility allows retailers to optimize sound distribution and coverage based on their unique store layout and customer flow.
EASY TO INSTAL | ADVANCE CONTROL & MANAGEMENT |DEDICATED CUSTOMER SUPPORT | PRODUCT REPLACEMENT 48 HOURS|ADVANCE TECHNOLGY |SERVICE CENTRES | ON SITE DELIVERY & REPLACEMENT