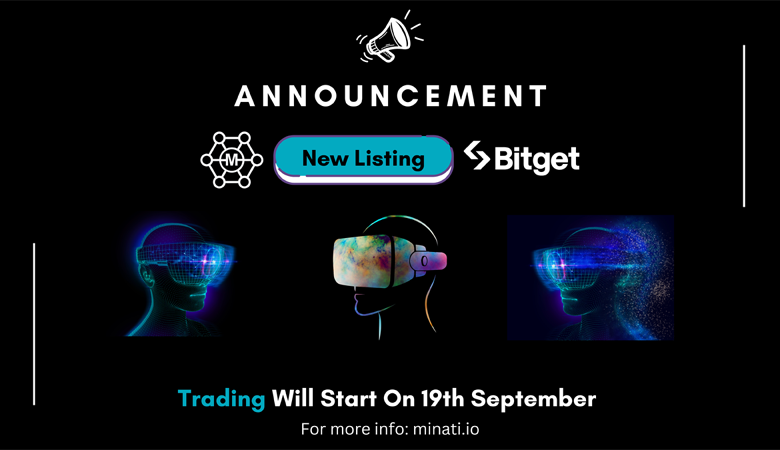 Press Release
Minati Token to Land on Bitget Exchange on September 19th: Exploring the Minativerse
Cryptocurrency enthusiasts, get ready for a groundbreaking event. Minati Token (MNTC) is gearing up for a significant move as it gets listed on Bitget Exchange on Tuesday, September 19th. But that's not all – the Minati ecosystem has more in store for its community as it ventures into the captivating world of the Minativerse. In this article, we'll dive into what makes the Bitget Exchange listing special and explore the intriguing concept of the Minativerse.
Unveiling Minati Token: A Game-Changer
Before we delve into the exciting developments, let's take a moment to understand the essence of Minati Token. MNTC is a unique cryptocurrency with a distinct vision. Built on the Binance Smart Chain (BSC), it leverages the power of blockchain technology to create an ecosystem that transcends traditional boundaries.
The Bitget Exchange Listing: Significance Unveiled
The listing of Minati Token on Bitget Exchange marks a turning point for the project:
1. Accessibility Amplified: With Minati Token listed on Bitget Exchange, it becomes readily available to a broader audience of traders and investors. This expansion of reach fosters a more inclusive and engaged community.
2. Liquidity Enhanced: Bitget Exchange is renowned for its liquidity. The listing on this reputable platform is expected to boost MNTC's liquidity, simplifying the process for traders to buy and sell the token.
3. Trust and Credibility: Bitget Exchange is known for its stringent security measures and reliability. Being listed on a trusted platform bolsters Minati Token's credibility within the cryptocurrency sphere.
4. Advanced Trading Features: Traders on Bitget can explore advanced trading features such as margin trading and derivatives. This can draw in experienced traders and bring added dynamism to the Minati ecosystem.
The Minativerse: A Fascinating Frontier
Beyond the Bitget Exchange listing, Minati Token is venturing into uncharted territory with the Minativerse. This groundbreaking concept introduces virtual assets that users can buy and sell within a blockchain-based virtual universe.
Here's what makes the Minativerse so enthralling:
1. Virtual Asset Empowerment: Users can acquire virtual assets within the Minativerse, ranging from digital real estate to unique collectibles. Ownership is secured on the blockchain, providing indisputable ownership and verifiable rarity.
2. Digital Economy at Play: The Minativerse operates on its own digital economy, where users can engage in various activities, create content, and trade virtual assets. All of this occurs while the Minati Token serves as the primary currency.
3. Innovation and Entertainment: The Minativerse embodies innovation and entertainment, merging blockchain technology with a digital universe. It offers a novel way for users to engage, interact, and explore a limitless digital realm.
The Minati Token listing on Bitget Exchange and the introduction of the Minativerse are indicative of an ecosystem that's poised for remarkable growth and innovation. As September 19th approaches, the crypto community eagerly anticipates these exciting developments, which could reshape the way we think about virtual assets and blockchain-based entertainment. Stay tuned for what promises to be a thrilling chapter in the Minati story.
Please Visit: www.minati.io