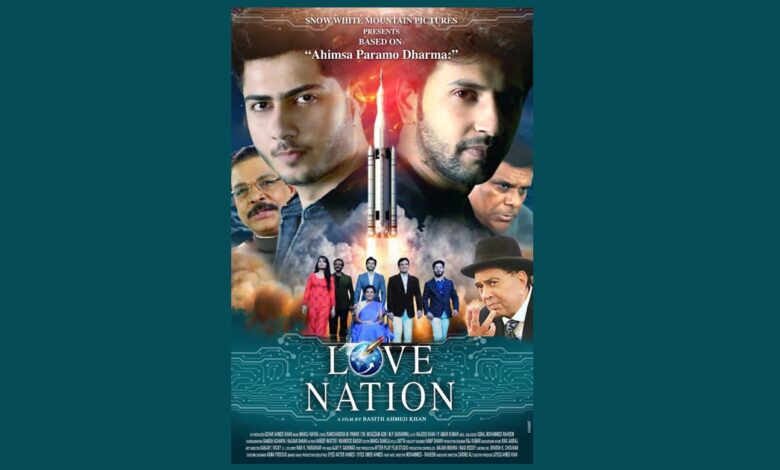 Entertainment
Love Nation, a Heartwarming Tale of Love and Peace, Set to Release on August 4th
Mumbai, Maharashtra [India]: A new cinematic gem, Love Nation, is all set to hit theaters nationwide on August 4th, bringing an emotionally charged story of love and peace to audiences. Directed by the talented South Indian filmmaker Basith Ahmed Khan, the film stars Dharmendra, Govind Namdeo, Milind Gunaji, Ashish Vidyarthi, and others.
The much-awaited film trailer of Love Nation has received an overwhelming response from audiences, crossing over a million views within days of its release. This tremendous reception is a testament to the curiosity and eagerness of the viewers, who are eagerly awaiting the opportunity to witness the heart-touching journey of love and its profound impact on society.
Here is the Love Nation Film trailer:
In a recent statement about the film's release, south Indian film director Basith Ahmed Khan expressed his uncontainable excitement, saying, "I am super thrilled about Love Nation because this film carries a positive message for a peaceful society. In a world filled with chaos and conflicts, we wanted to remind people of the incredible power of love and its potential to transform lives. The tremendous response to the film's trailer has further fueled our passion for sharing this uplifting message with the world."Fueling the film's soul-stirring dialogues is the brilliant wordsmith, Iqbal Mohd Raheem. His impeccable writing breathes life into each character, lending authenticity and depth to this cinematic experience like no other.
As the film's poster is unveiled, it captivates viewers with its vibrant colors and evocative imagery, hinting at the captivating journey of love that awaits them on the big screen. The poster embodies the essence of the film's central theme—love as a mighty force for change and harmony, transcending all boundaries and bringing people together.
Love Nation promises to be much more than a typical Bollywood blockbuster. It offers a unique blend of heartwarming storytelling and awe-inspiring performances that are bound to leave a lasting impression on audiences. Critics and industry insiders alike have lauded the film for its thought-provoking content and powerful storytelling, setting the stage for an unforgettable cinematic experience.
At a time when the world grapples with numerous challenges, Love Nation's portrayal of love as a guiding light comes as a poignant reminder of the significance of compassion and unity in today's society. The film's gripping narrative follows the remarkable journey of Deepak Parashar, whose unwavering dedication to peace and love leaves an indelible mark on the lives of those he touches.
As audiences follow his son Vishal and the team of young scientists racing against time to prevent a catastrophic disaster, they are taken on an emotional rollercoaster that tugs at heartstrings and leaves them with a renewed belief in the power of love.
So, mark your calendars for August 4th, and ensure you don't miss the chance to experience Love Nation in all its splendor on the big screen. Whether you're a believer in the transformative power of love or simply looking for an uplifting and unforgettable cinematic experience, Love Nation promises to be an absolute must-see for everyone. With the film's powerful message and exceptional storytelling, Love Nation is sure to leave audiences inspired and touched by the magic of love, fostering a renewed hope for a more harmonious and peaceful society.