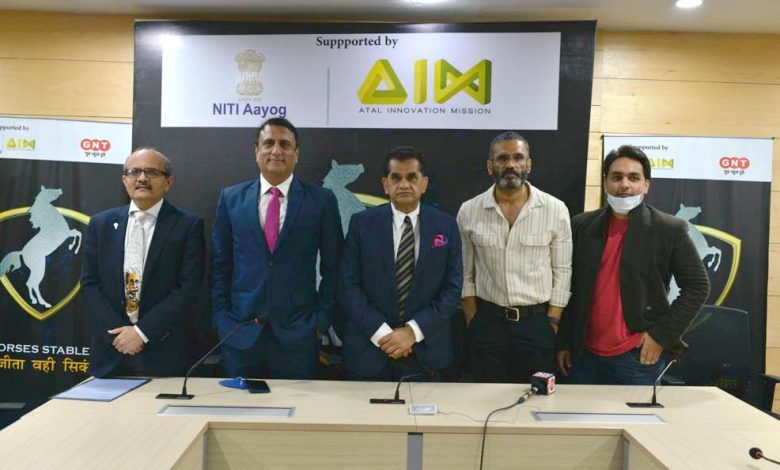 Business
Good News Today launches brand new entrepreneurial reality show- "Horses Stable: Jo Jeeta Wohi Sikander"  
Launched by NITI Aayog CEO, Shri Amitabh Kant, on 6th December-the show will see entrepreneurs from across the nation will pitch their big ideas to top investors in an innovative format
New Delhi (India), December 08, 2021: India Today Group's latest offering- Good News Today, a first-of-its-kind channel for positive, inspirational and human-centric news stories is set to bring audiences a unique competition reality show that celebrates India's innovators and budding business minds. The show called: "The Horses Stable: Jo Jeeta Wohi Sikander", is a flagship series where entrepreneurs pitch their business models to a panel of investors and convince them to invest money in their ventures. Shri. Amitabh Kant, CEO Niti Aayog, Dr Chintan Vaishnav, Mission Director, Atal Innovation Mission, Shri. Suniel Shetty, FTC Talent & Entertainment and Shri. Prashant Agarwal, Founder HPPL and Rahul Shaw, CEO Television & Radio Business India Today Group- officially launched the show on 6th December 2021. The show is supported by the Atal Innovation Mission, NITI Aayog, and is a joint effort of Prashant Agarwal and renowned Bollywood actor Shri. Suniel Shetty. This initiative is also supported by MSH under the Ministry of Electronics and IT (MeitY).
The format of the show will be akin to the great Indian derby.
The investors, or "horses" include marquee names like- Suraj Juneja– Founder and Chief Ideator at Freeflow Venture Builders; Nandini Mansinghka– CEO and Managing Director at Angels Network; Ankita Vashistha– Founder of 1st Women in Tech VC Fund, Saha Fund, StrongHer Capital, VC & Entrepreneur; Mandar Joshi– Angel Investor, Deal Advisor, Keynote Speaker and Start-up Mentor; and Deeksha Ahuja, a seasoned entrepreneur and investor with over 8 years of experience. Uniting these stalwarts is the super-mentor, Suniel Shetty– award-winning Actor, Producer, Businessman and Serial Entrepreneur. He has been successful in multiple, business ventures in real estate, exports, construction, hospitality, talent, 360-degree marketing & digital solutions; entertainment & lifestyle content creation. The show is also sponsored by Vivek Bindra's BadaBusiness.com.
Early-stage Indian entrepreneurs pitch their start-up ideas to a panel of judges, "The Horses". who decide if they should invest in the idea. The host, "The Deal Master" will ensure he structures a valuable deal and matches suitable entrepreneurs to the right investors. "The Unicorns" – Masters of the Game who will discuss if the Horse's have bet on the right entrepreneurs (ponies). Bringing together the entrepreneurs, the horses, and the unicorns on one stage and advising on the right match to start the entrepreneur's start-up journey is "The Super Mentor".
The show will mark the spirit of self-reliance in India and will create a credible platform for entrepreneurs to present and incubate their ideas, connect with investors and get started on their own journey of Atmanirbharta.
Rahul Shaw, CEO, Television & Radio Business, India Today Group, said this of the show: "We're proud to see what India's brilliant business minds and entrepreneurs are able to bring to this country every day, and the challenger startup ecosystem we have created on a global stage. The India Today group has been tuned to the needs and aspirations of the nation for over 4 decades, and are thrilled once again to be able to provide a platform to let ideas of all shapes and sizes find the support they need to blossom and strengthen the momentum of India's startup story. We're thrilled to bring this home on the Good News Today platform where it can reach and inspire more people than ever before."
The show will capture all the drama and anticipation of a pitch meeting. On the spot mentorship and business tips, the opportunity to receive immediate funding and support from India's top investors and business magnates- will be an undeniable draw for participants and viewers alike.
Viewers can tune in to watch Horses Stable: Jo Jeeta Wohi Sikander from the 11th of December, on the Good News Today, every Saturday at 8:00 p.m. and Sunday at 5:00 p.m.