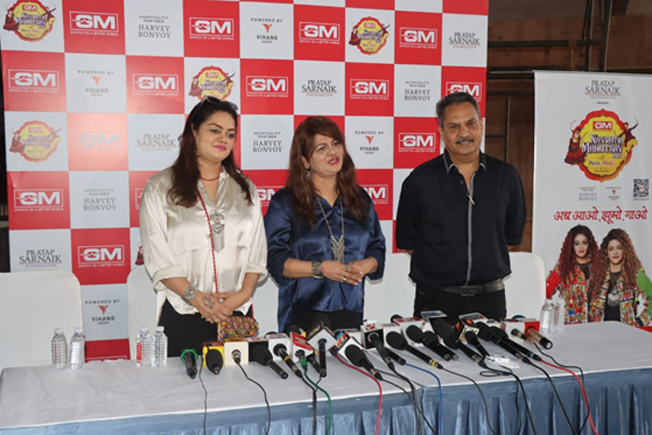 Lifestyle
GM Navratri Mahotsav with Preety and Pinky: A Grand Celebration of Culture and Music
Mumbai (Maharashtra) [India], 12th October 2023: Get ready to immerse yourself in the vibrant rhythms of Navratri, as GM Navratri Mahotsav brings you an unforgettable celebration featuring the dynamic duo, Preety and Pinky. This cultural extravaganza promises ten days of joy, music, and festivities that will leave you dancing and singing in the spirit of Navratri.
The event, aptly titled "GM Navratri Mahotsav with Preety and Pinky – Ab Aao Jhumo Gao," will take place from October 15th to October 24th at the MBMC Ground, Mira Road (E). Preety and Pinky, renowned artists known for their energetic Navratri performances, will grace the stage, ensuring an electrifying atmosphere for attendees.
GM Modular, along with Pratap Sarnaik Foundation, have come together to put on this blockbuster show for everyone at Mira Bhayandar. GM is a leading home electrical brand known for its innovative products like smart switches, LED lights, fans and appliances, home automation solutions and much more. GM, over the years, has partnered with multiple cultural and social events to provide the best of entertainment outside of homes and bring people closer.
Jayanth Jain, Founder CEO of GM Modular, said, "We are excited for the event. Traditional Navratri dance and music will take center stage at the event. Attendees can immerse themselves in the rich cultural traditions of the festival. The exquisite decor, featuring colorful garba and dandiya raas setups, will transport visitors to a world of festivity and joy."
Respected MLA Shri Pratap Sarnaik said, "This is the first time the Navratri event of this magnitude will take place in Mira Bhayander. Moreover, the event is free for the public giving everybody a chance to come and be a part of it."
GM Navratri Mahotsav promises much more than just music. It will be a star-studded event with celebrities from Bollywood and the political fraternity. The event is poised to captivate audiences with its blend of Bollywood glamour and foot-tapping melodies. Attendees can explore the GM VIP Outlet at the venue, offering a range of exciting products and experiences. Furthermore, the event will witness daily celebrity appearances, adding a touch of glamour and star power to the festivities.