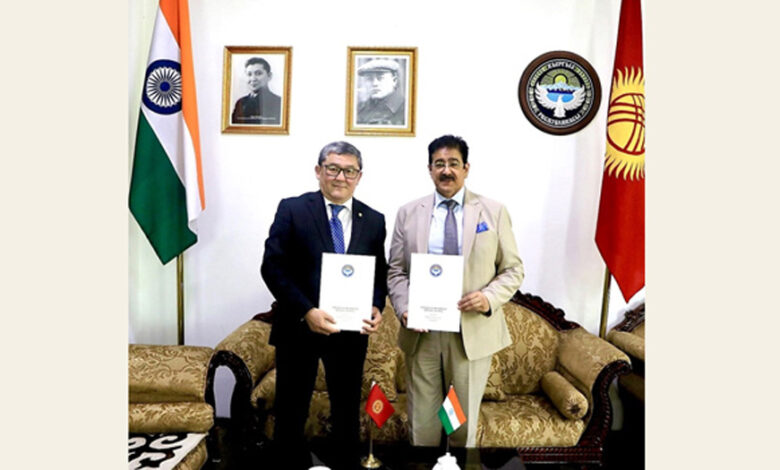 Business
Embassy of Kyrgyzstan and ICMEI sign landmark MOU to strengthen bilateral ties in art and culture
In a significant development, the Embassy of Kyrgyzstan and the International Chamber of Media and Entertainment Industry (ICMEI) have entered into a landmark Memorandum of Understanding (MOU), paving the way for enhanced collaboration and mutual respect in the fields of art and culture. This strategic partnership aims to strengthen the bilateral ties between the two nations by promoting cultural understanding and appreciation.
The MOU encompasses a wide range of collaborative fields, including films, television, media, culture, hospitality, tourism, fashion, design, education and training, environment, skill development, performing and fine arts. It underscores the crucial role of mutual cultural respect in fostering relationships and promoting global unity.
Through a series of workshops, seminars, and interaction programs, this collaborative initiative will facilitate an enriching exchange of ideas and practices. Immersive experiences, such as music and dance recitals, will provide a platform to appreciate and understand the rich cultural fabric of both Kyrgyzstan and India.
A noteworthy highlight of the MOU is the commitment by the Asian Academy of Film and Television (AAFT) to provide a scholarship for a deserving student from Kyrgyzstan for a short-term course. This exceptional opportunity will nurture talent and further foster cultural exchange between the two countries.
Expressing delight at the partnership, H.E. Askar Beshimov, the Ambassador of Kyrgyzstan, acknowledged its potential to forge stronger ties. Sandeep Marwah, President of ICMEI, echoed similar sentiments, praising the MOU as a crucial step towards promoting global unity through cultural understanding.
Furthermore, H.E. Askar Beshimov has been appointed as the Patron of the Indo Kyrgyzstan Film and Cultural Forum by ICMEI. This appointment signifies the commitment of both countries to strengthen their cultural ties and promote mutual understanding. With Ambassador Beshimov's patronage, the forum is expected to create valuable opportunities for artists, filmmakers, and cultural enthusiasts from India and Kyrgyzstan.
During their visit to Marwah Studios in Noida Film City, Dr.Sandeep Marwah, a renowned film, television, and media personality, received high appreciation and honor from the Embassy of Kyrgyzstan. In recognition of his relentless efforts to foster Indo-Kyrgyzstan relations through art and culture, Dr.Marwah was presented with a certificate of appreciation.
The Indo Kyrgyzstan Film and Cultural Forum eagerly anticipates a successful and fruitful journey ahead under the esteemed patronage of Ambassador Askar Beshimov. This association between the Embassy of Kyrgyzstan and ICMEI sets a strong foundation for the strengthening of cultural ties and the promotion of mutual understanding between the two nations.