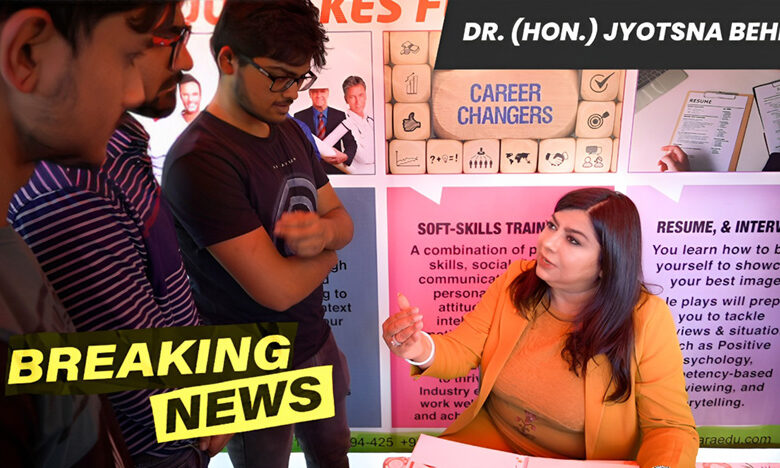 Lifestyle
Dr. (Hon.) Jyotsna Behl: Guiding a Path to Happiness and Success Through Thoughtful Choices
In a world often characterized by the elusive pursuit of happiness, Dr. (Hon.) Jyotsna Behl emerges as a guiding light, offering her expertise as an Internationally Qualified Happiness Coach and a Behavioral Change Trainer. With an impressive career spanning 35 years, including nearly two decades of distinguished service at a UN agency, Dr. Behl has established herself as a thought leader, bringing her extensive wisdom to create a happier world, and a more joyous place for everyone to live.
As the CEO of Kiara Education Solutions PVT LTD (KES) for the past seven years, Dr. Behl's visionary leadership has transformed the organization into an oasis of transformation. Founded in 2013, KES is more than just an educational platform—it's a haven of positivity, compassion, and mindful choices that radiate success and joy. Driven by the philosophy of "Be Happy By Decision," KES's innovative teaching methods, interactive learning experiences, and personalized coaching sessions reflect Dr. Behl's unwavering belief in the power of this enchanting mantra.
What sets KES apart is its holistic approach to human development. While many soft-skills and life skills programs focus on intellect and occasionally the mind, KES addresses the complete spectrum of human existence. Dr. Behl's pioneering approach encompasses the seven levels of being: Breath, Body, Mind, Intellect, Memory, Ego, and Self. She contends that the root causes of life's challenges are often embedded within these overlooked dimensions.
KES's holistic methodology not only nurtures intellectual growth but also cultivates five essential intelligences: IQ, Emotional Quotient, Social Quotient, Creativity Quotient, and Adversity Quotient. Dr. Behl's extensive career and life experiences have coalesced into a groundbreaking framework known as the "Seven Elixirs to be Happily Successful." This methodology, combined with innovative teaching practices, interactive learning, and personalized coaching, leads to profound results: inner joy, thriving relationships, accelerated careers, and purposeful lives.
Dr. Behl's journey of accomplishments is truly remarkable. Armed with an MBA from Washington State University (U.S.A.), an M. Tech from JNU, Delhi, and a B.E. from NSUT Delhi, she stands as a "Gold Medal" recipient for her all-rounded excellence. Her dedication to learning led her to complete her International Coaching Federation accredited training in 2020. Prior to that, she dedicated nearly five years to volunteer work with the Art of Living as a Happiness Course Trainer, showcasing her unwavering commitment to spreading happiness and well-being.
In a world seeking direction and positivity, Dr. (Hon.) Jyotsna Behl stands as an ambassador to become happily successful, guiding individuals toward decisions that yield lasting contentment and success. Her journey—from executive roles to becoming a beacon of happiness coaching and behavioral change—serves as a testament to the transformative power of choices. Through her guidance, individuals find themselves in a dance through life that ultimately leads to a state of blissful trance. So, In Life's Dance, Find Blissful Trance: Be Happy by Decision, Not Just Chance – Contact Dr. (Hon.) Jyotsna Behl.