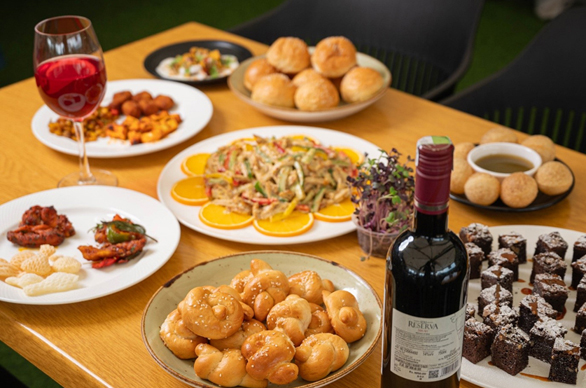 Food
Craft Beer, Culinary Marvels, and Cozy Sundays: Fox in the Field invites You to a Culinary Beer Adventure!
Bangalore (Karnataka) [India]: Hey there, fellow beer enthusiasts! Are you tired of the same old routine of grabbing a cold one at your local pub? Well, look no further because Fox in the Field is here to spice up your weekends with a unique culinary beer adventure. 
Located in the heart of our charming little town, Fox in the Field is not your average bar. With its rustic and cozy atmosphere, it's the perfect spot for a lazy Sunday afternoon. But what sets this place apart is their impressive selection of craft beers and mouth-watering culinary offerings. 
Let's start with the star of the show – the beer. Fox in the Field takes pride in their carefully curated selection of craft beers from both local and international breweries. From hoppy IPAs to smooth stouts, there's something for every beer lover. And if you're feeling adventurous, their knowledgeable staff will be more than happy to recommend a new brew for you to try. 
But what truly sets this place apart is their unique approach to pairing their beers with culinary marvels. Gone are the days of greasy pub food – at Fox in the Field, they take their food game seriously. Their menu is filled with creative and delicious dishes, all made with locally sourced ingredients. And the best part? Each dish is expertly paired with a specific beer to enhance the flavors and take your taste buds on a journey. 
Picture this – a juicy burger paired with a crisp and refreshing Pilsner, or a rich and creamy mac and cheese paired with a stout that has notes of coffee and chocolate. Trust us, it's a match made in heaven. And for our vegetarian friends, don't worry, they have plenty of options for you too. 
But the fun doesn't end there. Fox in the Field also hosts regular events where they showcase new and unique beers, and the kitchen creates special dishes to complement them. It's the perfect opportunity to try something new and expand your beer and food horizons. 
So, what are you waiting for? Grab your friends and head over to Fox in the Field for a one-of-a-kind culinary beer adventure. Whether you're a beer connoisseur or just looking for a fun and cozy spot to hang out, this place has got you covered. And who knows, you might just discover your new favorite beer and food pairing. Cheers! 
For more info, pics, or just a friendly chat, contact: 080 6937 9027 
Website – https://foxinthefield.beer/