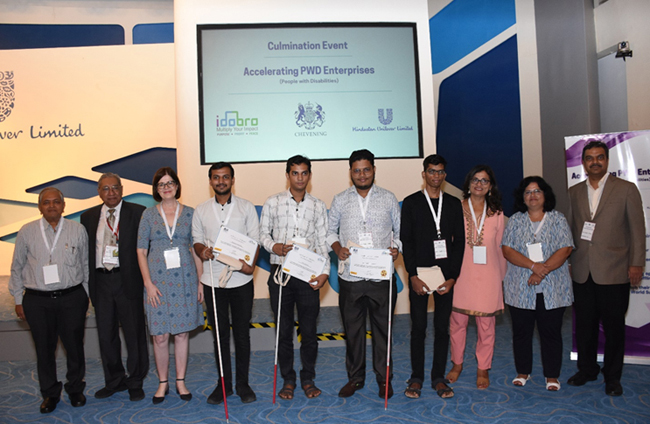 Business
Celebrating Entrepreneurship Triumphs of People with Disabilities
Mumbai (Maharashtra) [India]: Idobro Impact Solutions, Chevening Alumni, and Hindustan Unilever joined forces to honor the remarkable achievements of aspiring entrepreneurs at the 'Accelerating PwD (Persons with Disabilities) Enterprises' program. This distinctive incubation program, designed using the Idobro's proven ABCD model (Access to Market, Building Capacities, Creating Linkages, and Delivering Solutions), addressed the specific needs of individuals with disabilities passionate about entrepreneurship but lacking the know-how. The program culminated in a celebratory event on August 17, 2023.
Funded by the Chevening Alumni Programme Fund (CAPF), with the support of the British High Commission and the UK Foreign and Commonwealth Office, the program witnessed 65 entrepreneurs across India embarking on a transformative journey. From small businesses specializing in dry fruit sales in Kashmir to idea-stage coaching classes for college students in Andhra Pradesh, these founders underwent business training on crucial aspects such as business idea validation, customer acquisition, and digital marketing, along with personalized mentorship in sales strategy, personal finance, and business pitching.
Catherine Barnes, Deputy Head of Mission, British Deputy High Commissioner, who graced the occasion as the Chief Guest, spoke about the program: "I am delighted to have been part of today's special celebration to mark the culmination of the 'Entrepreneurship for Persons with Disabilities' program. It was hugely encouraging to see so many talented new entrepreneurs receive expert training, mentorship, and access to market opportunities, thanks to the brilliant support offered by Team Idobro and the Chevening Alumni Programme Fund. Diversity and inclusion are central to the UK's values, and we remain committed to championing this cause globally."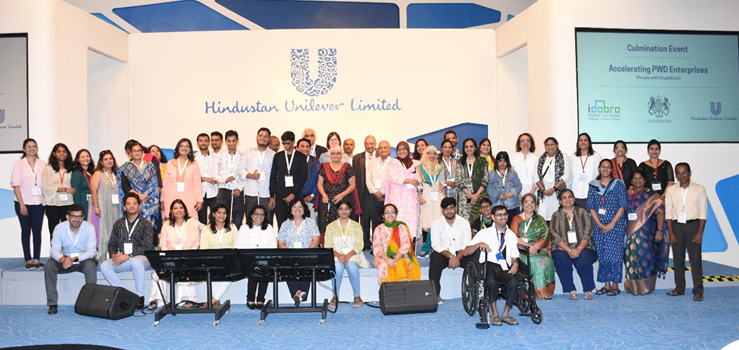 Hindustan Unilever in India generously agreed to host the event, as their commitment to Diversity, Equity, and Inclusion (DE&I) resonated with the core values of the project.  HUL's remarkable support in providing a platform for the sale of PWD-crafted products at The Street for exhibition and sales exceeded expectations, with impressive sales of approximately Rs 50,000 in just three hours. This achievement exemplified the transformative potential of such partnerships.
Mayur Jadhav, who is visually impaired and manages his perfumery business in Mumbai, shared, "The program helped me understand my customer profile to pitch my perfume to the right customer audience. The number of exhibition opportunities I received boosted my sales."
The engaging discussions at the mentoring clinic, based on IDOBRO's ABCD model of entrepreneurship, not only brought insightful solutions to real-world business problems for our PwD participants but also fostered numerous opportunities, collaborations, and partnerships to sustain this momentum for them.
The event aimed to bring together different stakeholders, including corporates, PwD, and NGOs, to create awareness and garner support for this impactful initiative, catalyzing a more inclusive entrepreneurial landscape. The program saw participation from social organizations  New Horizon, ADAPT and Fayda who work on the cause of promoting skills building livelihood for PwD's
During the Rise World Summit 2023, a flagship program by Idobro Impact Solution that saw 10,000 online and offline participants from 71 countries, had five selected PwD entrepreneurs pitch their businesses to a startup-savvy jury, gaining exposure to opportunities within the startup ecosystem along with valuable advice for business growth.
Virtual Booths, product brochures, and registering on Idobro's marketplace were some of the steps taken to ensure visibility of these businesses beyond the program.
The Chevening Alumni Programme Fund (CAPF) supports alumni activities and projects designed to enhance Chevening engagement, influence, and social impact through an annual bid process. Karon Shaiva, Founder and Chief Impact Officer of Idobro Impact Solutions, and a Chevening alumni shared, "Truly proud to have won the CAPF bid for this passion project to Accelerate PwD entrepreneurship and grateful for the support of the Chevening Alumni community in making it a reality. We hope that others will be as inspired by the resilience of PwDs who are the new People with Determination, exemplifying unwavering strength and resolve in their entrepreneurial pursuits."