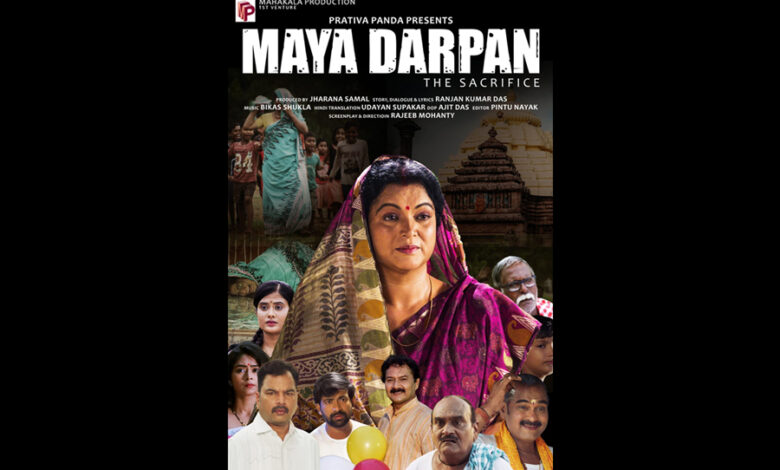 Entertainment
The trailer of film "Maya Darpan," which is set to be released on July 1st, 2022, has been released
After a lot of hard work, film director Rajeeb Mohanty's film Maya Darpan is set to be released on July 1st, 2022. While announcing the film's release date, producer Jharana Samal said, "This is a very very special date for all of us as, as the film is set in the background of the Indian State of Odisha and the Temple city of Puri, the first of July will also be the mark of the auspicious occasion of Jagannath Rath Yatra, which is also starting on the 1st of July." We are overjoyed that our film Maya Darpan, produced by Mahakala Productions, is finally being released.
Maya Darpan Film Trailer:
This time, Prativa Panda will portray a widowed woman, according to the trailer released by the makers. As per the published synopsis, in an uncertain accident, Nayana, a widow woman with her small boy, lives in the village. Her face became furious, so the children of the village feared her, and also the women of the village didn't talk to her as they thought she was a witch. If you get sick, your work will suffer. Narayana is held responsible for all of the village's problems. All these people's mindsets are because of the priest who instigated them.
The official synopsis of Maya Darpan on the site reads, "The beauty of a mother is not in her body or face but actually in the pure soul with an affectionate heart."
Besides Prativa Panda, the film also features Kuna Tripathy, Jeevan Panda, Ankit, Pooja, Pradyumna Lenka, Ratan Meher, Tapas, and Anshuman Bhagyalaxmi in important roles.
It is important to note that Maya Darpan has been written by Ranjan Kumar Das and directed by Rajeeb Mohanty. The Hindi version of the film is going to be released in a theater near you in the first week of July 2022.