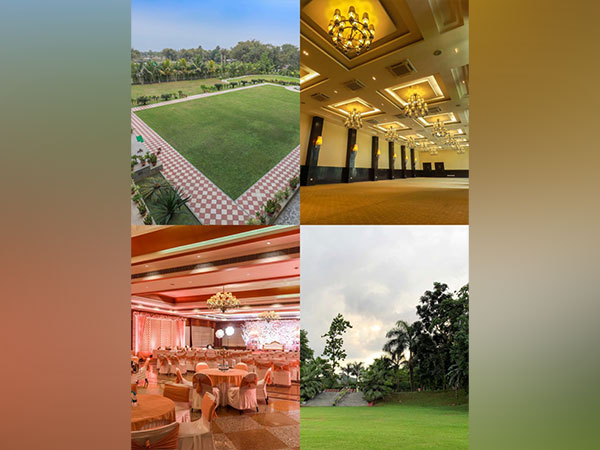 Business
The Greenwood Hotels and Resorts unveils an extensive selection of banquets for corporate events and destination weddings
Guwahati (Assam) [India]: The Greenwood Hotels and Resorts, a leading hospitality brand from Northeast India, is pleased to announce the introduction of an extensive selection of banquets tailored to cater to the distinctive requirements of luxury weddings and corporate event organizers in the Northeast India. The Greenwood brand manages three excellent properties: "The Greenwood Resort" in the outskirts of Guwahati, "The Greenwood Tezpur," and the newest addition, "The Greenwood Guwahati." It has always been committed to delivering exceptional service and now offers a wide range of venues designed to host a variety of events, with a particular focus on Meetings, Incentives, Conferences, and Exhibitions (MICE) as well as destination weddings.
Customers & event organizers will have the option to choose between both indoor hall settings and outdoor lawn settings, each offering unique and picturesque settings to create unforgettable events. These versatile banquet venues have been meticulously designed to meet the high standards of luxury events, ensuring that every detail is carefully considered. From exquisite decor to top-notch culinary offerings, The Greenwood Hotels and Resorts has curated a comprehensive experience that is certain to leave a lasting impression on all attendees.
On presenting the extensive range of banquets, Mr. Himanshu Kalita, Managing Director of The Greenwood Hotels and Resorts, said, "Guwahati and the entire North East have long been craving for world-class event venues that reflect the region's unique charm while offering unparalleled luxury and services. Our goal is to bridge this gap, providing the discerning clients of this vibrant market with a variety of premium banquet options. Our vision is to offer an exceptional range of venues to our guests, where they can host their special occasions in an environment that resonates with the cultural and natural beauty of the North East, all while enjoying the luxury and sophistication they deserve."
The Greenwood Resort, the flagship property from The Greenwood Hotels and Resorts, offers a diverse range of banquet options, both within its elegant halls and sprawling lawns, ensuring the perfect setting for any occasion. The Majuli Hall, paying homage to the Satriya culture, can comfortably accommodate up to 150 guests. The Majuli Lawn, a vast expanse of lush greenery, provides a breathtaking backdrop for outdoor events. Umananda Lawn offers a picturesque outdoor space for up to 500 attendees, while Nameri, the expansive open lawn, can host grand gatherings of up to 1500 guests. With its versatile banquet options and stunning natural setting, The Greenwood Resort is the ideal destination for any celebration, from intimate gatherings to grand affairs.
The Greenwood Tezpur, a boutique hotel from The Greenwood Group, offers some stunning banquet options: Orang Hall and Orang Lawn, catering to different event needs. Orang Hall, a pillarless space, accommodates up to 1000 guests for conferences, sit-down affairs, or social receptions. Orang Lawn, an enchanting outdoor setting, has a maximum capacity of 2000 for choreographed gatherings, celebrations, weddings, and specialized events. The Greenwood Tezpur also offers modern boardrooms.
The Greenwood Guwahati, the newly launched boutique hotel from The Greenwood Group, offers a magnificent banquet facility, Xorai, which is ideal for conferences, sit-down dinners, or social gatherings. It reflects grandeur and opens up an array of possibilities, with a maximum capacity of 350.
The Greenwood Hotels and Resorts provides a diverse selection of room accommodations across its two properties in Guwahati to cater to a variety of events and weddings, ensuring event organizers have flexible options. The Greenwood Resort boasts 36 luxurious rooms, while The Greenwood Guwahati offers 48 rooms. What sets it apart is the ability to allocate room inventory at the second Guwahati property for weddings and events taking place at any of The Greenwood properties.
The Greenwood Hotels and Resorts are equipped to accommodate a diverse range of events, including Meetings, Incentives, Conferences, and Exhibitions (MICE). These venues have been thoughtfully designed to provide a seamless and efficient experience for event planners and attendees alike.