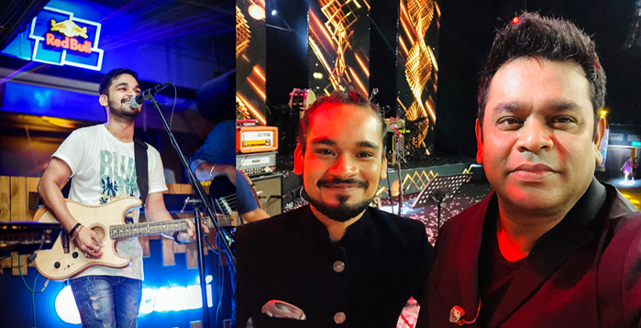 Entertainment
Shivam Mishra: The Rising Star of The Indian Rock Genre
Do you remember Shivam Mishra from the band, "Friendship Band" which performed in the Rising Stars? Well, the popular singer who received a lot of praises from the judges has been making a lot of budges lately because of the songs that he has been performing recently around India and the globe. Shivam Mishra is the living testament to the fact that talent alone will not take you much further unless you match it up with hard work.
Having done over 1000 successful live shows and performed at numerous online and TV events, Shivam Mishra is known for his strong voice and versatility which easily places him in the top musicians in our country. This charismatic man has something more than great vocals and that is an enigmatic camera and stage presence which is why his every stage show is so memorable for his audience and fans.
You ask any artist who has made it to the top in the music industry, they will tell you that it is only hard work, practice and taking up the challenges and opportunities when they knock your door will lead you there. Shivam Mishra is no exception. We all know him for running his band, "Friendship Band" which Shankar Mahadevan compared to the popular British rock band, Mumford and Sons which in itself is an amazing compliment for an independent band but what we do not see is Shivam's practice and his grit for which he has been rewarded.
Shivam told us, "I started learning music in 2010 from Bhatkhande Music University Lucknow till 2013 and private learning afterward till today and it is the only way to succeed in the long term and now I am seeing results both online and in real life. Tours and shows keep me busy but what I have noticed recently and feel really grateful to see this is that our videos are getting amazing views on YouTube, all organically. One of our popular cover song AAP BAITHE HAIN BALIN PE MERI has crossed more than 6.5 million views on the YouTube. Our YouTube channel is having a good growth and that is a mere reflection of our growth in real life as musicians."
When you chase virality, you lose the essence of being an artist. Singers like Shivam Mishra have preserved that essence very beautifully and one can see that in their songs and performances. Performing on the same stage shared by the legends like AR Rahman, Sukhwinder Singh, Alka Yagnik, Ayushman Khurana, Nilesh Mishra, Shaan, Udit Narayan, Mamta Sharma, Sameer Ji(Renowned Bollywood Lyricist), Shashi Suman is no easy feat and Shivam Mishra deserved the applause that he has been receiving lately in his career. If you love his music, you should not miss their shows. They also perform at HAPPY STREET events by Times of India and Navbharat Times annually. To stay updated with Shivam and his Band's upcoming shows and projects, follow him on Instagram @officialshivammishra