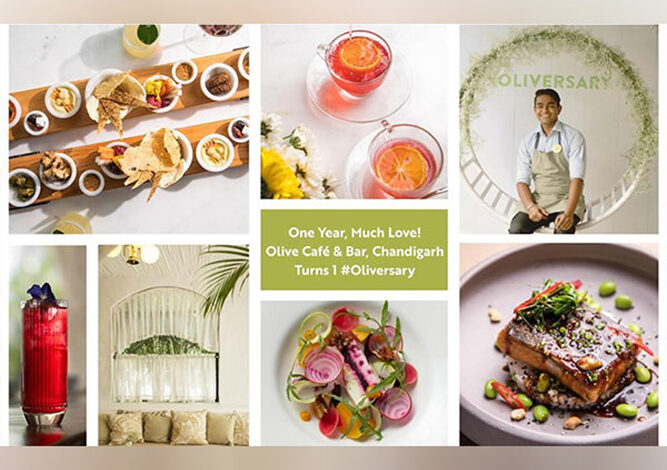 Food
Olive Cafe & Bar, the white-walled wonderland, turns 1
Chandigarh [India]:  One year, much love and the Olive Café & Bar, Sec 26, Chandigarh is saying thank you with exciting lucky dip birthday treats, yes! you have a chance to win a meal for four and other surprises; live music; cake cutting; photo booth to make some memories with polaroid giveaways.  Dance with their staff flash mobs and pair all this with delicious food and cocktails. Follow @olivecafechandigarh for yummy updates.
The Olive Café & Bar with a laid back, friendly vibe is a place where good food, laughter, culture and conversations come together in a delightful melting pot.
A gourmet café menu by chef Jyotika Malik & Anubhav Moza; hand-crafted cocktails and a robust wine list by lead mixologist Harish Chhimwal are some of its everyday elements. Come here for a leisurely lunch in the sun-dappled courtyard, a romantic dinner for two with live grills under the stars, or a raucous evening with friends at the bar.
Says AD Singh, Founder & MD of The Olive Group of restaurants, "Olive is a way of life and an experience where we bring together good food, delicious & fresh cocktails, warmth, fun and hospitality as it should be. We cherish our partnership with Vishal Anand and Sampat Singh and are looking forward to our anniversary celebrations."
As Olive Bar & Café turns 1, here are a few reasons why it's a must visit.
Food and drink are at the core with its delicious Med-meets-European-and-the-world menu. Must try innovative, signature cocktails like the Teq-tonics (move over G&Ts), Sorbet Gin-Tos and the Popcorn Party which is an ode to the beautiful city with corn and fat washed mustard! Their seasonal menus like Sunshine on a Plate, winter menu or the Colours of Summer, summer menu keeps it fresh.
Culinary and sensory experiences: Christmas where the restaurant transformed into a mesmerizing winter wonderland, captivating guests with a week-long celebration; Valentine's Day in 2023, which featured an exclusive Valentine's menu in a picturesque setting, with live music & festive cocktails.
The beverage programme at OCB is par excellence. They work with seasonal ingredients and superior bar practices, which include no use of synthetics and house made cordials and liqueurs. They plan to do an interesting beverage festival every quarter, as the first one, the chocolate cocktail festival was a hit.
Moonlit Magic on Mondays have been a big draw where for one night a week Olive goes dark and you can dine under the stars in candle light. All special occasions and topical events like special brunches, Earth Day, chocolate day etc. are marked with a treat on the house for our guests. Coming up: Winter brunches.
It's birthday time and the guests get the treat! Mark your calendars: Win gift vouchers with delicious offers (Friday to Sunday). Make memories at their Love swing & take home Polaroids every day till 31st Aug. Enjoy a candle-lit dinner with live music on Mondays & Fridays and Saturdays. Dance with the flash mob. Hope you have a balloon of a time!