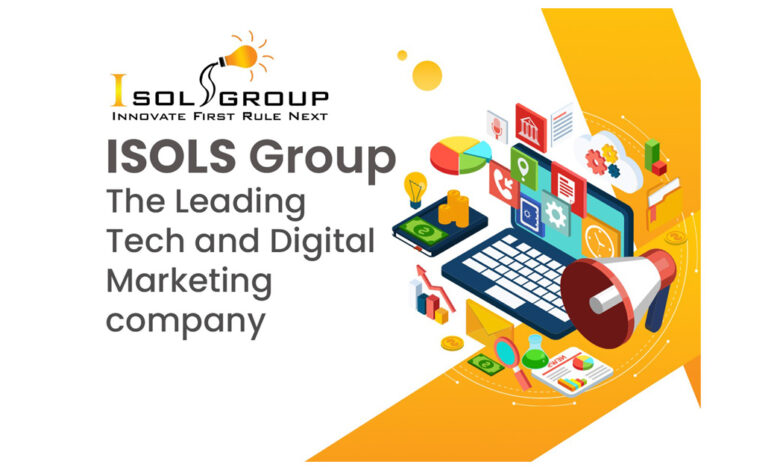 Business
ISOLS Group – A Rising Technology and Digital Company in India Bringing Smiles for their Clients
In a dynamic landscape where digital transformation is key, ISOLS Group's sister concern, Digital India Leader, has emerged as a frontrunner in delivering top-notch SEO and digital marketing services. The company's innovative approach has garnered praise from an array of clients from industry verticals including finance, retail, education, healthcare, startups, and hospitality etc.  
Every client associated with the Group has applauded the personalized digital marketing solutions offered like an in-house digital marketing team. Clients enthusiastically embraced the association, acknowledging the company's reliability and authenticity as a digital marketing partner for various small, medium & large enterprises to provide the best solutions for SEO or digital marketing needs. 
Dr Avinash Singh Chauhan, Director of Shivaya Hospital, Unnao, Uttar Pradesh, remarked, "ISOLS Group's adept guidance in devising winning SEO and digital marketing strategies has catapulted our online presence in a very short span of time. After meeting the President of Digital India Leader, ISOLS Group, I strongly felt that they can do it for us, and I am proud to share that 'Yes, they have done it'; our online presence has grown tremendously. Our whole team is very happy with the work orientation and results that we have achieved with the professional handling & guidance of ISOLS Group. Their professionalism and expertise have brought us remarkable results."  
Another satisfied client, CA Abhishek, Co-Founder & CEO of Starter's CFO, affirmed, "ISOLS Group's excellence was recommended to us by one of my colleagues. We are glad to choose them for our SEO and digital marketing needs and they have exceeded our expectations too. They have a wonderful cooperative team who have a great hold & experience in the field of digital marketing and technology. Their executive & leadership team is very knowledgeable about the latest trends in SEO and digital marketing. Beyond SEO and digital marketing, they've become our trusted technology partner, showcasing their proficiency in both realms. Their knowledgeable team has fueled our growth, and we eagerly anticipate our future achievements together."   
ISOLS Group's impact is not limited to Gurgaon only; its influence extends nationally and internationally. The Company houses young, seasoned professionals and is dedicated to surpassing client expectations in a very progressive spirit. Staying abreast of the latest industry trends and technologies ensures that ISOLS Group provides clients with a competitive edge.   
Ever since its inception, Visionary entrepreneur Dr. Ujjwal Chugh, Founder & CEO of ISOLS Group, has an ideology, "Live your life as per Newton's 3rd law, work for the success of the client and you will automatically be successful". We don't believe in making long-term relationships rather our relationship with clients goes till death bed.  
ISOLS Group stands out of the crowd and has become one of the best SEO and digital marketing companies in Gurgaon. For businesses seeking top SEO and digital marketing services, ISOLS Group is the definitive choice. Their accomplished team, coupled with their commitment to innovation, guarantees strategic solutions that fuel business growth in a lesser time.    
To learn more about ISOLS Group and connect with their team, visit www.isolsgroup.com or reach out via email at [email protected].   
About Digital India Leader | ISOLS Group  
Digital India Leader, a subsidiary of ISOLS Group, is providing the best SEO and digital marketing services in Gurgaon. Committed to excellence, their experienced team thrives on delivering optimal solutions to amplify business growth. With a pulse on the latest SEO and digital marketing trends, Digital India Leader ensures outstanding results for all their clients.