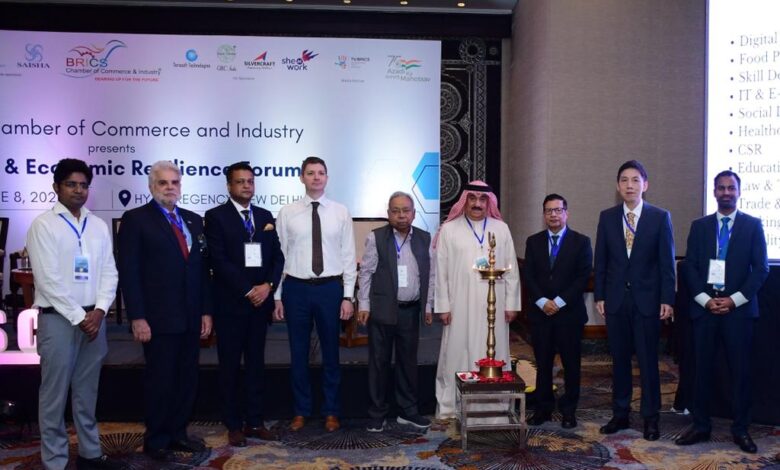 Business
BRICS Chamber of Commerce & Industry presents "Climate & Economic Resilience Forum"
With the impulse of global Sustainability in sight, BRICS CCI, on June 8th, 2023, organized "Climate & Economic Resilience Forum".  With this, the Forum seemed to harness the collective strength and expertise of the BRICS countries to drive transformative action towards a more sustainable future. The forum served as a platform for business leaders, policymakers, social activists and civil society representatives to exchange knowledge, best practices, and innovative ideas in the realm of climate change. It facilitated constructive dialogue on various aspects, including climate policy frameworks, renewable energy, sustainable industrial scopes, green finance, and more.
The BRICS CCI Climate Forum proved to be a testament to the commitment of the BRICS nations in fostering sustainable development and combatting climate change. It symbolizes a collective effort to create a better future for generations to come, where economic growth goes hand in hand with environmental stewardship.
Dr. BBL Madhukar, while commemorating the audience, said "we firmly believe that together, we can make a difference. Each individual, organization, and nation represented here has a vital role to play in shaping the trajectory of our planet. By working collectively and transcending boundaries, we can create a sustainable future for generations to come."
Vice Chairman of BRICS CCI, Mr. Sameep Shastri, elucidated the crowd as he said "I take the opportunity to commemorate the Vision of Amirtkaal and India's G20 presidency to promote environmentally-conscious practices and a sustainable way of living.  Through the Forum today, we shall strengthen India's agenda and the six thematic priorities of India's G20 Leadership opportunity to lead by example and shape the trajectory of global climate action."
Shri Ruhail Ranjan, Director Finance BRICS CCI, in his special address to the gathering mentioned "Our focus must be on collaboration and cooperation. Let us leverage our collective knowledge and experiences to develop innovative solutions that address the unique challenges faced by our countries. We must encourage technology transfer, capacity building, and investment in clean and sustainable technologies"
Delivering his key note address to the Forum, Shri C.K. Mishra, Former Secretary, Ministry of Environment, Forest & Climate Change of India (retd IAS) marked "The climate change is not only about people, it's about animals, plants, crops and that is where businesses have big role to play."
The event was graced by H.E. Dr. Shankar Prasad Sharma, Ambassador, Embassy of Nepal; H.E. Mr. Abdulrahman Mohamed Ahmed Al Gaoud, Ambassador, Embassy of the Kingdom of Bahrain & H.E. Mr. Claudio Ansorena Montero, Ambassador, Embassy of the Republic of Costa Rica.
Representatives from the embassies of Russia, China, Sudan, Australia, Brazil and South Africa graced the Forum with their valuable presence.
H.E. Mr. Claudio Ansorena Montero, Ambassador of Costa Rica stated, "Forums like this provide important platforms to discuss the challenges of climate change and economic resilience. Costa Rica has abundant experience and good models of resilient practices aimed at achieving inclusive growth and a sustainable future that we would be happy to share with key actors in India."
Dr. Anil Prakash Joshi, Padma Bhushan, HESCO Dehradun, Commemorated the Session by stating," It is the high time to advocate for an ecology inclusive economy. We have economic growth measure GDP, will need ecological growth measure, GEP gross environment product"
The distinguished line-up of speakers and panelists at the BRICS CCI Climate Forum included Dr. Anil Prakash Joshi, Padma Bhushan, HESCO Dehradun; Shri Shyam Sunder Paliwal, Padma Shri, Social Activist; Mr. Tang Zhishao, First Secretary, The Embassy of the People's Republic of China in India; Mr. Sandeep Chandna, Chief Sustainability Officer, Tech Mahindra; Shri R P Sharma, Secretary and Director General of the Recycling and Environment Industry Association of India (REIAI); Ms. Kalpana Sharma, Former, Additional Secretary to Lok Sabha, Parliament of India.
Shri Shyam Sunder Paliwal marked the event by saying "Har vyakti pratigya le ki polythene ka upyog na kare, jansakhya ke aadhar par ped lgaye, betiyon ka saman kare, or jal sanghrakshan pe dhyan rakhe."
"Addressing climate change remains a long and arduous task that demands wide participation and a concerted effort from around the globe. China will honour its promises and continue to support multilateralism, however the global situation changes" stated Mr. Tang Zhishao, First Secretary, The Embassy of People's Republic of China in India.
BRICS CCI brought together the stakeholder from varied industries, including Mr. Arvind Bali, CEO, Telecom Sector Skill Council; Mr. Vishal Sharma, General Manager – Sustainability Initiatives, Esri India; Mr. Abhinav Prakash Singh, Vice President, BJYM; Assistant Professor, Shri Ram College of Commerce, University of Delhi; Prof. Shallini Taneja, Head of Center for Sustainable Development, FORE School Of Management; Shri Suresh K Goel, Former Ambassador of India to Lao People's Democratic Republic.
"Russia counts India as a top priority among global south. We see significant potential in joining shared interest with the nation" Said Mr, Ildar Batkaev, First Secretary, Embassy of Russia, marked the Forum.
Mr. Abhinav Bali, CEO, Telecom Sector Skill Council, while attending the Forum said "Business can make sure a fair-trade practices. They can restructure their plans to ensure these practices, hence blurring the biases."
The event was co-powered by Saisha Group of Companies, Terasoft Technologies, FORE School of Management, Silvercraft, Sheatwork, GRC India, Fuschia, La Bella Torte, Ekomart.Co, Geetveda and TV BRICS.                
About BRICS CCI
BRICS CCI is the association of emerging Economies of the world aspiring to foster Business Growth and Ecological Balance. Influencing the unpreceded ideas, BRICS CCI influence the industry with its leadership. The objective of BRICS CCI is to create an enabling support system, especially for the MSME segment of businesses, young entrepreneurs, women entrepreneurs, and Start-Ups from across all geographies.