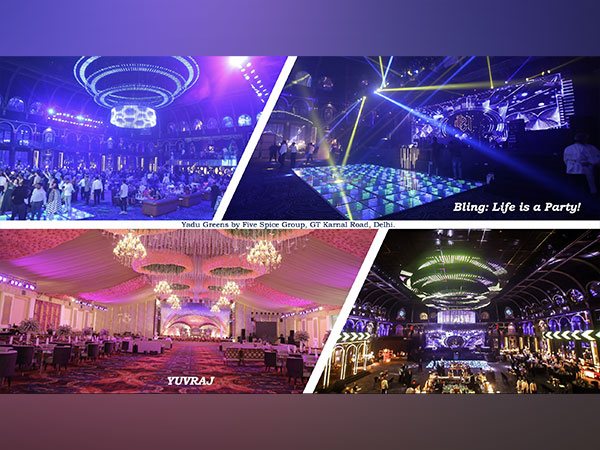 Business
'Bling' by Five Spice Group: The most happening venue of Delhi NCR for all your special occasions!
Yadu Greens by Five Spice, a renowned name in the hospitality and entertainment industry, proudly introduces its newest gem – "Bling," an opulent venue that promises to redefine the nightlife scene in the Delhi NCR region. 'Bling' not only offers a one-of-a-kind experience but also a special Buy One Get One (BOGO) offer that sets it apart from the rest. The BOGO offer was introduced sometime back and after a tremendous response, it has been extended for the upcoming wedding season.
Bling, nestled within the luxurious premises of Yadu Greens by Five Spice, emerges as the epitome of sophistication and vivacity in the heart of Delhi NCR's nightlife. With its plush European decor, architecture, state-of-the-art sound system, and vibrant atmosphere, this venue is set to become the go-to destination for everything from cocktail parties to wedding receptions, corporate events, musical shows, celebrity performances, and pre-wedding functions. Located in the heart of Delhi NCR, this venue promises an unforgettable experience for party-goers and event organizers alike.This venue is designed to be the crown jewel, promising an experience that dazzles and delights with every visit. As the sun sets and the city comes alive, Bling welcomes partygoers and enthusiasts to an enchanting world where luxury and excitement seamlessly merge.
'What truly sets Bling apart is its mesmerizing Greek-inspired décor that transports guests to a world of ancient elegance and modern extravagance. The venue is thoughtfully adorned with intricate details reminiscent of classical Greek architecture, creating an atmosphere that is both timeless and contemporary. From the moment guests step inside, they are enveloped in an ambiance that exudes grandeur and allure.'
Some of the highlights for Bling: Life is a Party, which surely makes it the most preferred destination for luxurious wedding destinations are:
Spread across 7.5 acres of lush greens.

Easy Access: On Left Hand Side of NH-1 (GT Karnal Road, From Delhi to Karnal)

Legacy of 20 years in premium catering and hospitality.

Parking for more than 800 cars.

Bling: The only night club themed venue in Delhi NCR for all your special occasions.
One of the most exciting features of Yadu Green by Five Spice is the exclusive BOGO offer that sets it apart. When guests book one venue at Yadu Greens by Five Spice, they unlock the opportunity to enjoy another venue absolutely free. This unique offer not only enhances the overall experience but also showcases Yadu Greens' commitment to providing exceptional value to its patrons.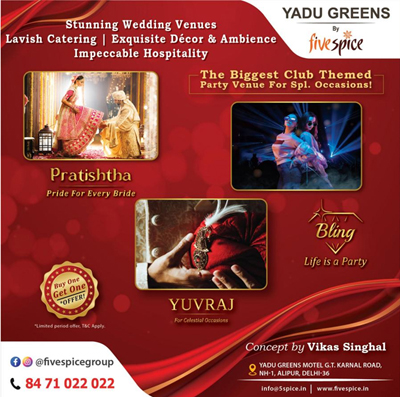 Yadu Greens by Five Spice stands as a testament to the team's dedication to crafting diverse and unforgettable experiences for their guests. In addition to Bling, the venue offers multiple options to choose from, including Pratishtha, Yuvraj and The Ballroom. Each space is uniquely designed to cater to various celebrations and events, making Yadu Greens by Five Spice a versatile destination for any occasion.
Mr. Vikas Singhal, MD Five Spice Group, the visionary behind Yadu Greens by Five Spice, expresses his passion and commitment to creating a venue that is synonymous with celebration. He envisions a place where people come together to commemorate life's moments, both big and small, in an atmosphere that resonates with joy, warmth, and unforgettable memories.Talking about these luxurious and plush venues, Mr. Vikas Singhal said: "As the tagline for Bling goes- Life is a party, we really want our guests to create great memories for a lifetime when they choose any one of our venues. Ever since unveiling Bling as the 'Jewel in the Crown' in Delhi NCR's nightlife, it beckons all who seek an extraordinary experience to indulge in the magic that this venue has to offer." With its BOGO (Buy One Get One) offer, captivating Greek décor, and commitment to celebration, Bling promises to be a destination that truly sparkles in the nightlife landscape.
Check you our latest pics and videos on Instagram https://www.instagram.com/fivespicegroup/ and feel the magic!
Contact: 84-71-022-022 for more details or visit Yadu Greens by Five Spice, Alipur, GT Karnal Road, Delhi.
Email: [email protected]
BOGO is a limited period offer, Terms & Conditions Apply. Subject to management's discretion and availability.