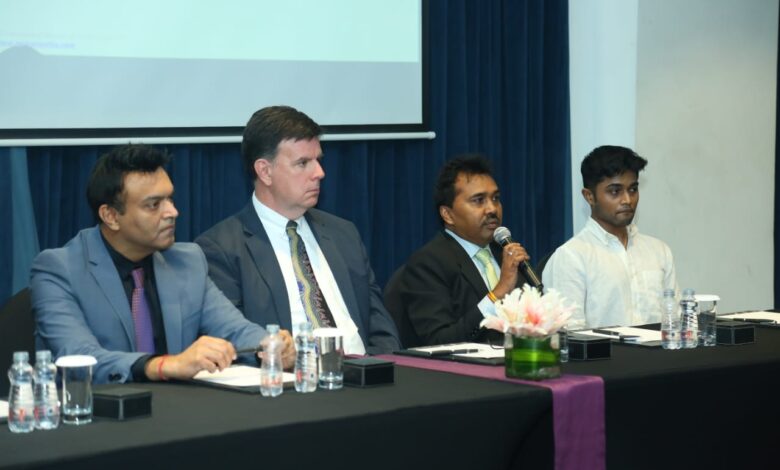 Education
American Eduglobal School (AES) reveals expansion plans across India, next campus in Mumbai soon
American Eduglobal School (AES) – an iconic educational institution with a 65-year legacy rooted with the Saddle River Day School, New Jersey, USA – is advancing its mark in India with the expansion of its school chain across the nation. AES is affiliated with ICSE and Cambridge, creating a distinctive curriculum rich with hands-on experiences for students. As a part of this expansion, AES announced the impending launch of its next campus in Mumbai, a key milestone in its growth strategy.
Moreover, AES has unveiled plans to establish further campuses in Lucknow, Sirsa, and Pune, amplifying its mission to transform Indian education with its avant-garde curriculum, including STEAM, blockchain, and robotics, among other cutting-edge disciplines. Each campus is expected to mirror AES's innovative and holistic approach to education, as seen at its inaugural Ghaziabad location.
Press conference were graced by a number of dignitaries including Dr. Kevin Merges, chief Impact global officer (saddle river day school , new jersey), Jalaj Desai (Head Of School, Saddle River Day School), PK Samal (Managing Director, AES), Mr. Anand Khanna, BD Director – Edouv Ventures Pvt ltd and Chandan Samal, Young Entrepenuer.
AES is also seeking collaborations with top sports academies, similar to their partnership with Delhi Capitals in Ghaziabad, to bring world-class sports facilities and training to its students in Mumbai. This effort is in line with their continued commitment to integrating progressive disciplines into their curriculum, providing a unique learning environment distinct from traditional Indian schools.
P.K Samal, Managing Director, AES, stated, "Our Mumbai campus will symbolize innovation and progress, providing students with a future-forward curriculum, alongside numerous opportunities in sports and co-curricular activities." Also AES commits to support underprivileged students and enhancing teaching by combining Indian and American educators, further he added.
In support of underprivileged students, AES is adhering to the Indian government's norms, further strengthening its inclusive educational philosophy. This commitment underlines AES's stand as a pioneer of impactful educational practices, shaping the leaders of tomorrow by combining global educational standards and local teaching methodologies.
Jalaj Desai stated, "We at AES believe in nurturing students from the get-go, providing a robust ecosystem for their comprehensive growth."
Mr. Anand Khanna expressed, "AES stands as a symbol of pioneering educational practices, and we're excited to be part of this transformation."
Further amplifying the teaching experience, AES plans to engage a diverse mix of Indian and American educators, aiming to provide students with the best of both worlds. Dr. Kevin Merges, Chief Impact Global Officer, Saddle River School, New Jersey, USA, noted, "The AES's Mumbai expansion marks another milestone in our journey to provide India with the best of global and futuristic education."
This ambitious expansion showcases a significant East-West educational collaboration, inviting potential investors to be part of this transformative journey in reshaping Indian education standards. This endeavor clearly positions AES as a trailblazer in the Indian educational landscape, ready to lead the way with its blend of global educational practices and local pedagogies.